Official News from Asian Beach Games in Thailand
Official
12 November 2014
Sergei Grishin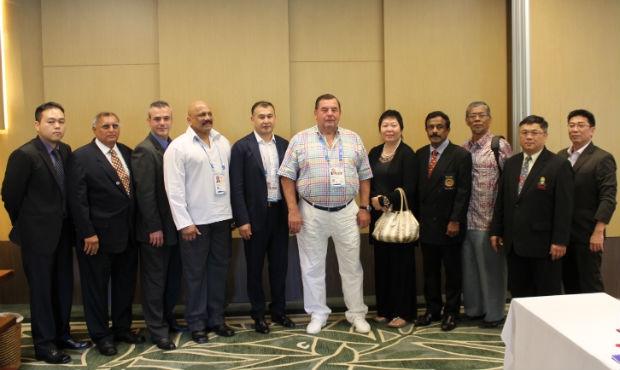 Today the meeting of Vasily Shestakov, the President of International Sambo Federation, with the representatives of Asian National Sambo Federations (NSF) on settlement of the conflict in Asian sambo, was held in Phuket. The event started with the report by FIAS President on modern sambo development in the world. Including of sambo into the program of Asian and European games, increase of the number of NSF in the world, enhancement of sports calendar of International Sambo Federation and promotion of sambo to the global Olympic family – about this and many other things that go on in modern sambo, Shestakov told in his report. "The basis for this success is the fruitful and constant work of the heads of national federations and team coaches. Our success in promoting sambo in the world would not be possible without them", - Vasily Shestakov pointed out.
The question about Fazliddin Poulatov, was raised, who is the former Asian Sambo Federation President that by his destructive activity caused his deposition as Asian sambo head. Recently Alamzhon Moullaev was elected to this office. Due to his initiative and work, sambo in Asia made such a spurt in the development and promotion on the continent. Today's sambo tournament in the program of Asian Beach Games is a bright evidence of this.
"I would like our world, the world of sambo, to be united, and I am sure I will get support from everybody who is here today. Sambo is one large family, and we don't want breaks or splits in our family. This is what we are here for", - FIAS President continued.
"You are people we rely on, and I am glad that we've got a chance to meet today. I am convinced that this is our first step to work as a united family. We have achieved significant success for a very short period of time. This year Asian Union of Sambo was recognized by Asian Olympic Committee. But we have a lot of work to do, and we can succeed only if we unite. All depends on our wish, everything is in our hands", - said Alamzhon Moullaev, head of Asian sambo.
"Mixed martial arts, to which sambo relates, are very popular in Thailand, and now sambo is at the stage of rapid development. We highly appreciate the support the FIAS renders to our Federation: coaches and equipment, and help in implementation of our joint project. We are ready to continue our work together with FIAS and Sambo Union of Asia for successful development of sambo in our country and in the world as well," said the representative of the country-organizer of the Asian Beach Games, Khassabodin Rozhanovich.
Not any recorded resolution became the result of the meeting. The atmosphere of trust and understanding which established between the management of international and Asian sambo and Asian Sambo Federations' representatives, was the result. That was the atmosphere which contributes to the successful and fruitful work within sambo family.
Very soon all the participants will meet again at the Congress of International Sambo Federation which will be held in Narita (Japan) on November20, in advance of Sambo World Championship.