SAMBO Champions of Turkmenistan are Named
Federations
20 December 2018
Aleksandr Solomahin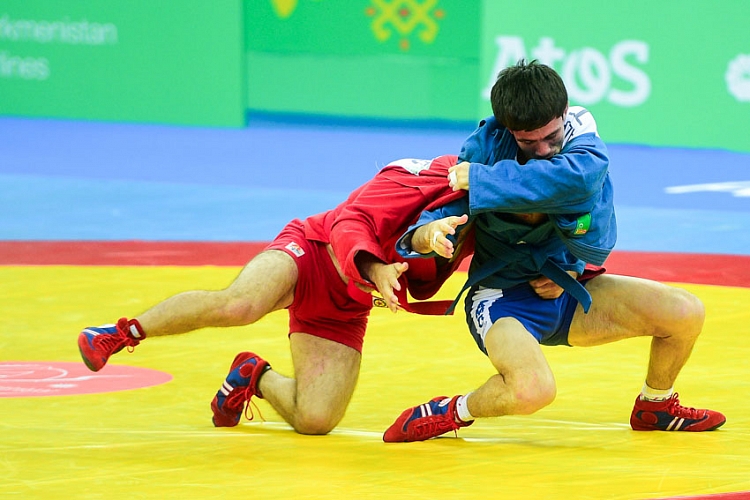 Turkmenistan Sports SAMBO Championships, which gathered more than 160 athletes from all the country, ended in Ashgabat. Competitions were held in the Olympic town and were organized by the Ministry of Sport and Youth Policy and the National Martial Arts Federation of Turkmenistan.
Athletes from Ashgabat have won gold medals in competitions among men. Moreover, in seven of the nine weight categories the pupils of the honored trainer of Turkmenistan Nuryagdy Mamedov took priority. Gurtgeldy Gurtgeldyev (weight category up to 52 kg), Yusup Ismailov (up to 57 kg), Sapar Dovletov (up to 62 kg), Yusupmurat Atamuradov (up to 68 kg), Nedir Allaberdyev (up to 74 kg), Kasym Populov (up to 82 kg), Nurberdykhan Orazmammedov (up to 90 kg), Ruslan Esgerov (up to 100 kg) and Sapa Sapaev (over 100 kg) became the champions of the tournament.
Representatives of Ashgabat won seven gold medals in competitions among women. The second team's place took the athletes of the Lebap velayat, with two gold medals. They were conquered by Ayna Zaripova (up to 48 kg) and Sevara Mamedova (up to 56 kg). In the other weight categories the highest awards went to the sambists from the capital: Aynur Amanova (up to 52 kg), Ziba Orunova (up to 60 kg), Gulnar Khaidarova (up to 64 kg), Dilyafruz Yusupova (up to 68 kg), Oguldzhan Egemberdyeva (up to 72 kg), Sabina Agadzhanova (up to 80 kg) and Maksuda Egemberdiyeva (over 80 kg).
Following the results of the competition, the backbone of the national team has been formed, which will be preparing for the upcoming international competitions in 2019.