Freedom of City of London goes to FIAS President
Competitions
9 May 2013
Sergei Grishin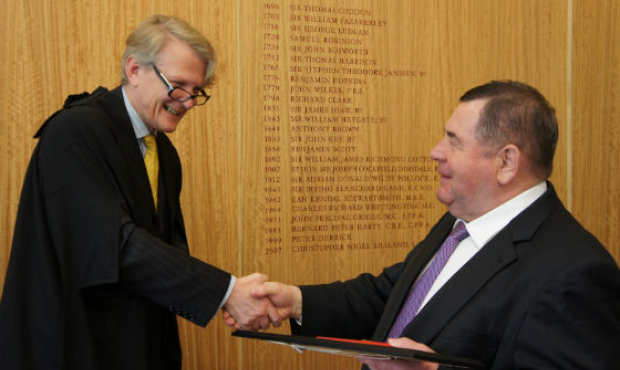 On May, 8, 2013 the "Freedom of City of London" was granted to Vasily Shestakov, Russian Parliament (Duma) MP and the President of International Sambo Federation (FIAS). Shestakov to become the fifth Russian national to receive "Freedom of City of London".
The Russian Queen, Catherine The Great was the first to receive it, followed by the last Russian Emperor Nicolay II. Among the modern days' nominates are artists, musicians, scientists.
The award is granted in the recognition of the significant cultural and social contribution made to the City in particular and Great Britain in general by an individual. It is remarkable that the symbolic keys from the City of London are displayed in the middle of the Award Badge.
The Freedom of City of London has a history going back to ancient times, when England was a part of the Roman Empire. The award was exclusively military from the start and was followed with a series of privileges, which the Emperor granted personally to his servicemen of this the remotest place of Empire. Nowadays, the focus on the values has changed. The achievements of different kinds to be recognized today: sporting, cultural, social.
The significant achievements in the field of the improvement of the Anglo-Russian relationships by Vasily Shestakov through the promotion and development of the sport were recognized, particularly with regards to promotion of SAMBO known as "Russian" sport. SAMBO has much more on the offer than the solely athletic values, it has a substantial social potential.
Under the leadership of FIAS President Shestakov, a series of unique social projects are being promoted, to name a few: "Break The Fall", "Life saving skills", etc. Many countries already adopted SAMBO as part of the school and higher education curriculum.
As for the Commonwealth, we can say that SAMBO is booming here, as more and more countries of the Commonwealth continue to develop SAMBO successfully. Ghana, South Africa, Seychelles, India, Canada, Sri Lanka, Botswana. Australia, Cameroon, Trinidad and Tobago, Barbados, St. Lucia, Antigua, Cyprus. This is just to mention several of 54 Commonwealth countries ,who successfully promote SAMBO and already started to enjoy the medals from Continental and World Championships and Tournaments.
"I always considered, the sport not to be limited to well-being and athletic achievements exclusively, but extended to be the most powerful tools to build integrity, friendship among the nations and promotion of the highest values, very much needed in the modern World. I always worked with this principles in mind. I am proud to receive this award, this gives me more strength to carry on, and this also means that me and my team are on the right tracks!" – comments the new Freeman of City London, and FIAS President Vasily Shestakov.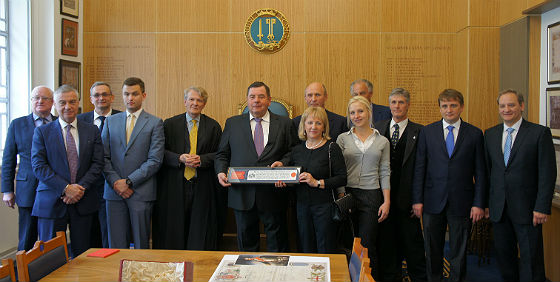 Natalia Yukhareva,
www.sambo.sport