Triumph of sambo representatives in "What? Where? When?" Game Show
Кaleidoscope
22 September 2014
Sergei Grishin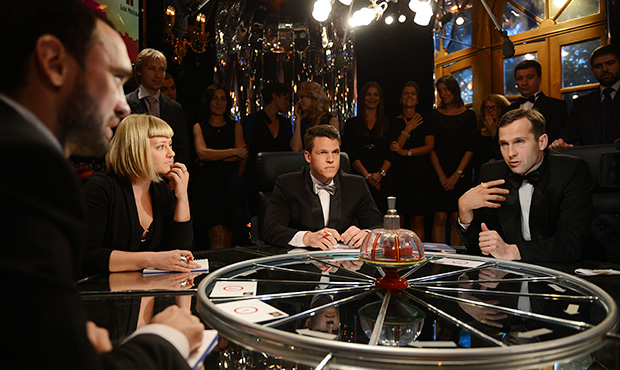 Today, the serious passions were running high in the Moscow stage of Neskuchny Garden, where the famous Russian "What? Where? When?" Game Show "resides". Sambo representatives were proving breadth of their vision, spacious intellect and reaction speed while fighting against tricky questions of TV viewers. The final score was 6:5 in favor of sambo athletes. Read how it was in our today's report.
We remind that it was the second game for sambo athletes. In the summer, the "unarmed defense" representatives won with the score of 6:2, while the autumn game became more dramatic and catchy.
Eventually, sambo athletes turned out to be stronger and managed to give answers to difficult questions of TV viewers. An ancient parable about the time, the epigraph to the tale of the Little Red Riding Hood by Charles Perrault, the German gradation of mobile phones, as well as animals purchased for the zoo by waiters at their own expense in East Germany in the middle of the last century. This is an incomplete list of questions, for which sambo athletes found witty, and most importantly, right answers.
"Sambo is a sport that requires brainwork and reflection of tactical picture of every fight", FIAS President Vasily Shestakov shares his experiences of the game. "This is precisely why a large number of sambo athletes find themselves in academic science after retirement from competitive sports. Sambo is a highly intellectual sport, and today's victory of sambo representatives is just a proof of the same".
Following the results of the game, Kseniya Zablotskaya, the sambo team captain and Deputy Director of Skif Sports School, was recognized as the best player. Despite triumph and thrilling but pleasant emotions, sambo athletes do not intend to stop and wish to continue training and trying their intellectual strengths in the "What? Where? When?" Project.
The next game may take place as early as January 2015, and yet... any sambo athlete has a chance to join a team that could fight against viewers in a live TV broadcast of the Russian 1 Channel.