Rules of life. Victor Savinov
Competitions
13 June 2013
Sergei Grishin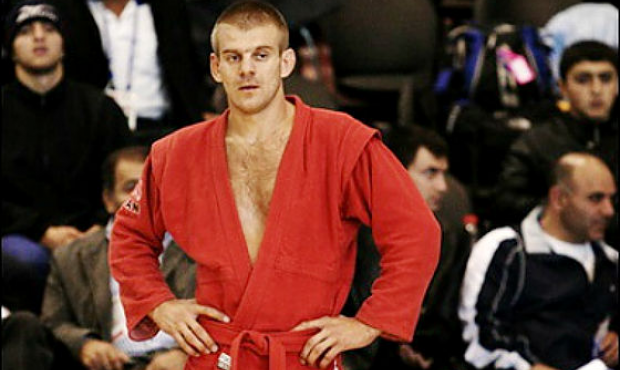 Viktor Savinov, a 6-time world SAMBO champion:
My dad really wanted us [my brother and me] to engage in some "men's" sport. In 1988 people became to be interested in the movie with Jackie Chan and Bruce Lee. My brother and me, and he is a year senior to me, were watching cinematic battles open-mouthed. Soon my brother joined SAMBO section, and in three months – I did the same. So far a year later I won the championship of the region. And here we go.
I'm tall, thin, and I have a non-standard fighting style.
My participation in competitions is covered by the state, but the coach has to seek money for travel, accommodation and meals himself. But he is always rooting for me and looking forward to my return with a victory, of course. Many foreign SAMBO athletes are accompanied by coaches. They look at all fights of the potential rivals of their trainees in the tournament grid, and then suggest how to stand in a position, which hand to take, in general, pay attention to different technical nuances.
It's difficult to fight with the Russians anywhere and anytime. However, there are no qualification fights at high-level tournaments.
I have enured people that I always come with the first place. And when I bring the "silver" or "bronze", they say that Savinov has lost. For me the medal of any rank is a success.
Of course, when you go to the World Championship, then, first of all, you struggle with weight, loosing excess five or six kilos. Later, coming on the mat, you fight with the judges. And only after that you fight with rivals, adapting to their style of conducting a fight.
Every medal is dear to me. I have already had more than 80 medals, and I can tell you about each, how and where I won it. I think that when I finish fighting, I'll write a book about it.
While I'm healthy enough to fight, I won't give up sport. There are people who own a lot of titles in SAMBO, such as an eleven-time world champion Murat Hasanov.
I promised that I would become a five-time champion as yearly as in 1998, when won at the world championship for the first time. The way to the goal appeared to be so long because I tried to combine activities in two sports in parallel. Therefore, several times I stopped on the verge of the gold at the world SAMBO championships.
In the first place I blame myself for my defeats: somewhere I made a mistake, and somewhere it was just weariness.
I think it's more in the style of boxers to begin a meeting with the eyes fighting. The main thing in SAMBO is to tune in to the fight. I don't inherent aggression, I'm probably the kindest fighter in the world. In addition, outside the hall all the rivals become friends. We are very respectful to each other.
I never loosen up during the fight, and far less with a rival who has a title of the world or European champion.
If it were possible to automatically readjust, perhaps, many athletes would combine judo and SAMBO. In Ukraine the very few participate in both sports successfully. Judo needs a different tactical and physical preparation. It's like to ask a basketball player to play handball.
I rely only on myself, the judge and the scoreboard. It's good that experience allows to choose myself the right tactics for the fight.
My heart bleeds for the biggest competitions in the world do without such a beautiful kind of fighting. They have been working in this direction a long time. By the way, SAMBO athletes could put through the first set of rewards as yearly as at the 1980 Games. But then Indira Gandhi called Leonid Brezhnev and requested to include field hockey – the only sport in which the Indians claimed the medal – in a number of new kinds of Olympic sports. Brezhnev, who had never held even a tennis racket in his hands, decided to make a gift to Gandhi. And if politics hadn't intervened, do you know, how many Olympic SAMBO champions we would already have?
This, of course, out of sight, but I think if I were on the same mat with the Russian president, I would simply succumbed, wouldn't upset him.
Based on the materials from the media and Internet resources