The President's Sambo Cup press conference in London.
Competitions
27 September 2014
Sergei Grishin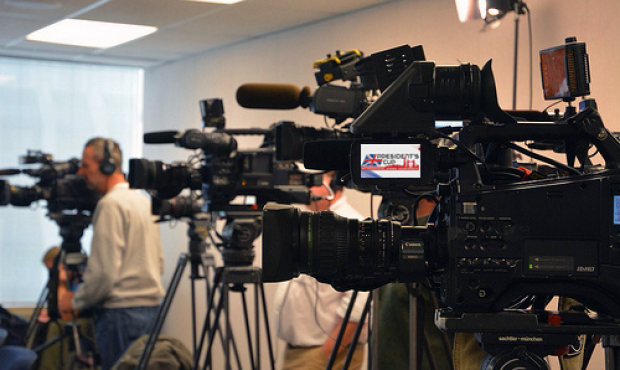 The first-ever London President's Sambo Cup has been started with a press conference of the up-coming event. Vasily Shestakov, FIAS President, Lord Simon Reding, President of the Commonwealth Sambo Association, and Martin Clarke, President of the British Sambo Federation, participated in the press conference. Read our today's story about all the tournament's details and special aspects told by event's participants to journalists.
"Historical roots of the English sambo are meaningful, and the history of the British sambo accounts for several decades already. The English national team participated in the first Sambo World Cup organized in Iran in 1973. I hope after holding this tournament, the development of sambo in Great Britain will become more successful. The British Commonwealth Sambo Championship will also take place in London the next day after this tournament," said Vasily Shestakov at the beginning of a press conference.
Simon Reding went on, "I'm happy to greet you here in London at the President's Cup. Sportsmen from 8 countries have come to Britain to participate in the tournament, and I am proud of the fact that we are the organizers of such an event which is interesting for the international sambo and important for the English sambo."
Martin Clarke said, "This is a great event for us, and it pushes the limits of the English sambo. I remember that sambo athletes from only 15 countries took part in the 1995 Sambo World Cup while last year 75 countries participated in the 2013 Sambo World Cup held in Saint Petersburg. IThis fact shows a successful development of sambo around the world. And I hope our tournament will become a good contribution to the development of sambo on the planet."
Timur Kabukaev, President of the Jewellers of North Capital Company, told about the Cup itself (i.e. about the Cup prize), "The most common question I'm recently asked is how much the Cup costs. I want to stress it is invaluable as it includes energy and love that we wanted to give to our favorite kind of sport, sambo. And today we're happy to present it to you."
The winner of this wonderful gem-incrusted Cup weighing for about 10 kg will be known in a few hours. The tournament final will begin in the entertainment center Bluewater at 5 p.m. local time.