The President of the Cyprus Sambo Federation Marios Andreu: Russian language, combat sports from Russia and Russian wife
Competitions
26 April 2013
Sergei Grishin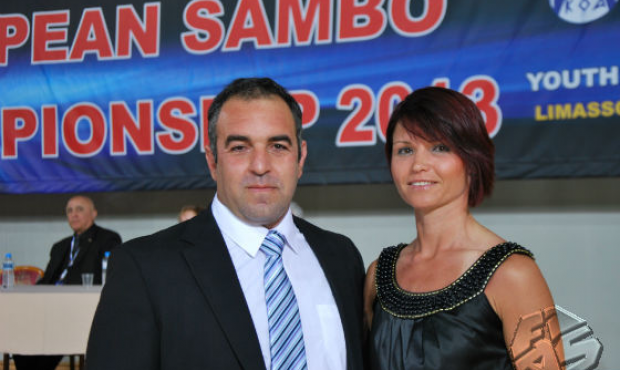 Friendship between Russia and Cyprus started in 1960, when the Soviet Union was the first to recognize the independent Republic of Cyprus. 17 years later  central figure of our today's report, at present time Marios Andreu, the President of the Cyprus Sambo Federation was born. On his 20th birthday he left for Russia to study. We propose you to learn the story of the Cypriot in Russia. This story was told by Julia Andreu, Marios's wife.
Russian Language
 Everything started from the Russian language. The first year of his stay in Moscow, before starting studies in the Institute of Physical Culture and Sports, Marios spent learning the native language of Dostoevsky, Pushkin and Chekhov and succeeded in it very quickly.
Institute of Physical Culture and Sports
 In Cyprus Marios exercised judo, but only for four years. At that point he knew nothing about sambo. After arriving in Moscow, the Cypriot entered the Institute of Physical Culture and Sports and planned initially to study at the sports rehabilitation department. Later Marios attended the gym after his studies where sambo was exercised. Sergey Eliseev and Sergey Tabakov, the couches who are presently well-known sports functionaries, were on the competition area. That was the time when Marios faced sambo for the first time. He liked the activity and started hard training. One year later Marios continued his education at the combat subdepartment.
The other half from Russia
 Suddenly on the spot Marios felt in love at the first sight not only with sambo but with Julia Anoshina, a beautiful Russian lady from Murom, professional sportswoman, master of sports in speed skating. They got acquainted through a slow dance at the student disco. At that point Julia had no idea that Marios was her Mr. Right. Marios came around for a cup of tea and to chat a little for a few times. Then Julia left for a countryside trip with her friends for a couple of days. When she was back in the city, at the hall of residence she found a present for March 8 from Marios who had come several times while she was on the trip. As it turned out later, Marios felt offended, because he thought that Julia was his girlfriend and could not bear her disappearance from Moscow for such a long time. It appeared that due to his persistence and insistency Marios could win the Russian beauty's heart. In the long run 3 years on the young couple married in Murom, the native town of the bride, and 2 years later they married in the capital of Cyprus Nicosia, the native country of the groom.
Children
This beautiful close-knit Cyprus-Russian family has two children: Kyprianos at the age of 10 and Victoriya at the age of 8. It's obvious that children are engaged in sports activities. The daughter goes in for rhythmic gymnastics and is trained by a Russian couch. The son exercises sambo and is trained by his father. As Julia says, being stricter in terms of children upbringing than her husband, "Our children's achievements in sports are very important for us. We do our best to facilitate their most high sports results". We are sure when Cyprianos growns up, sambo will be the Olympic kind of sports. That's why, taking into account parents' ambitions of the Andreu, we wish Victoriya and Kyprianos to become Olympic champions in rhythmic gymnastics and sambo. We have no doubts that this goal is achievable for them. It's well-known that genes play their role.
Natallia Yukhareva
www.sambo.sport