FIAS President Vasily Shestakov met the leader of Tatarstan Rustam Minnikhanov
President
14 April 2015
Sergei Grishin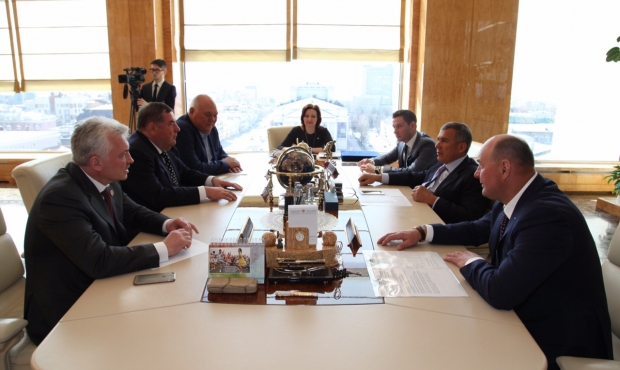 On April 13, President of the International Sambo Federation Vasily Shestakov met Interim President of the Republic of Tatarstan Rustam Minnikhanov in the Government House of the Republic of Tatarstan in Kazan. They discussed the current state and the prospects of sambo in Tatarstan, as well as the development of sports infrastructure in Kazan.
FIAS President noted that the city has a lot of sports centers for mass sports. Vasily Shestakov added that Kazan held the Universiade 2013 successfully. It was in the University Games in Kazan that sambo was included in the Games' program for the first time. 
President of the Pan-Russian Sambo Federation Sergey Yeliseyev, Minister of Youth Affairs and Sport of the Republic of Tatarstan Vladimir Leonov, Head of the Department for Health Care, Sport and Healthy Life Style of the Cabinet of Ministers of the Republic of Tatarstan Guzel Shakirova and other officials also took part in the meeting.