The prize fund of the World SAMBO Cup 2012 amounted to 100 thousand US dollars
Competitions
26 March 2013
Sergei Grishin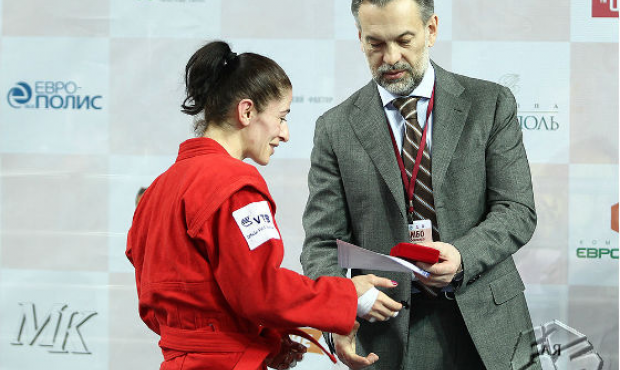 Awarding of the winners following the results of the overall standings of the World Cup 2012 was held in Moscow over the previous weekend. At the Stage of the World Cup 2013 "Memorial A. Kharlampiev" SAMBO athletes who outpointed, following the results of the World Cup Stages last year, were awarded medals, certificates and substantial prizes by the International SAMBO Federation. The total prize fund, divided among the winners of the final classification, amounted to 100 thousand US dollars.
Just rewards were presented to athletes by Andrey Klyamko, FIAS First Vice President and Sergey Eliseev, FIAS Vice President. Certainly at that moment each SAMBO athlete, a male or female, who became a World Cup-winner, one more time refreshed memory about the victories over the last year and once again realized that all the efforts were well-spent. And those SAMBO athletes who watched the triumphators from the sidelines probably thought: what's about hitching our waggon to a star to feel the same recognition following the results of the year?
By the way, the tradition of the Cup-winners awarding, which FIAS initiated in 2012, also continues today. The winners and prize-winners of the overall standings following the results of four Stages of the World Cup 2013 will also be able to deposit their banking account due to a prize payout. It is worth mentioning that now the reward will find its heroes even faster: the Victory ceremony for the World Cup 2013 winners will be held at the World SAMBO Championship which is carried out in St. Petersburg in November. Herein the prize fund remains the same.
Not only athletes got high-value prizes from FIAS at the World Cup "A.Kharlampiev Memorial". Sergey Tabakov, FIAS Executive Director awarded Mr. Paul Fiala, the Austrian Judo Federation General Secretary for his great contribution to the development of SAMBO. Andrey Klyamko, FIAS First Vice President also presented gifts to those who bring SAMBO to readers and viewers – the journalists. It is the first time when the International SAMBO Federation established special categories for the media community workers.
Following the results of 2012, journalists were awarded in several categories:
the best print journalist, according to FIAS, was recognized Veronika Sovetova, the representative of the ITAR-TASS International News Agency;
the best television journalist, according to FIAS, was named Sergey Rybin, the representative of Russia-2 Television Company.