The Russians and the Belarusians became the Winners in the First Day of the Tournament for the Prizes of A.A. Aslakhanov
Competitions
2 October 2012
Sergei Grishin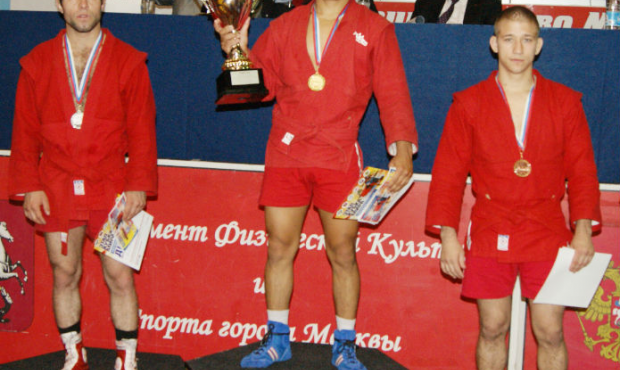 The first day of XI International Tournament for the prizes of A.A. Aslakhanov, a World Cup Stage, brought golden medals to the representatives of two teams – Belarus and Russia. While the first could get on the highest stage of the podium twice, the second became winners of golden awards 11 times.
In the morning program section of the tournament the participants of the evening finals and super finals were determined. The sportsmen in the sporting SAMBO competitions within men were divided into two subgroups. The winners and prize-winners of each subgroup in five weight categories became small medals of the tournament. The strongest thereof got the right to compete in super finals in the evening program section.
The opening ceremony of the XI International tournament for the prizes of A.A. Aslakhanov was held before the beginning of the evening section. The competitions were officially declared to be opened after bright performance of the actors, demonstration performance of the young SAMBO practitioners and official speeches of the honoured guests.
After that the spectators who gathered in Moscow Ivan Yarygin Sports Palace became witnesses of the fascinating performance. Super finals – sporting SAMBO battles between the winners of the subgroups in 5 weight categories in men were held on the mat. Besides, final fights in combating SAMBO in 5 weight categories in women and three categories in men were held. We call your attention to the results of the first competition day.
RESULTS
Sporting SAMBO
Women
Weight category up to 48 kg
1. Elena BONDAREVA (Russia)
2. Irina FEDOTOVA (Russia)
3. Zinaida BORISOVA (Russia)
Weight category up to 56 kg
1. Diana ALIEVA (Russia)
2. Anastasia VALOVA (Russia)
3. Anna ZALETSKAYA (Belarus)
Weight category up to 64 kg
1. Olga USOLTSEVA (Russia)
2. Anzhela PAIM-KRASKOVSKAYA (Belarus)
3. Mariana DAVYDOVA (Moldavia)
Weight category up to 72 kg
1. Maria KORMILTSEVA (Russia)
2. Svetlana AVERUSHKINA (Russia)
3. Tatiana SAVENKO (Ukraine)
Weight category more than 80 kg
1. Irina RODINA (Russia)
2. Svetlana YAREMKO (Ukraine)
3. Yuliya BORISIK (Belarus)
Men
Super finals
Weight category up to 52 kg
1. Valeriy SORONOKOV (Russia)
2. Dzhambulat AKHMADOV (Belarus)
3. Vasiliy KARAULOV (Russia)
Weight category up to 62 kg
1. Aleksandr BONDAREV (Russia)
2. Sukhrob SAIDALIZADA (Tadzhikistan)
3. Sergey YALYSHEV (Russia)
Weight category up to 74 kg
1. Uali KURZHEV (Russia)
2. Aleksey ROMANCHIK (Belarus)
3. Aleksandr SHABUROV (Russia)
Weight category up to 90 kg
1. Andrey KAZUSENOK (Belarus)
2. Aleksey STEPANKOV (Belarus)
3. Ivan VASILCHUK (Ukraine)
Weight category more than 100 kg
1. Yuriy RYBAK (Belarus)
2. Maksim SHIRYAEV (Russia)
3. Sergey BORISKIN (Russia)
Combat SAMBO
Weight category up to 62 kg
1. Bokhodir BOKIEV (Russia)
2. Viktor DULMAEV (Russia)
3. Sergey BUSEYEV (Russia)
Weight category up to 82 kg
1. Aleksey IVANOV (Russia)
2. Mavrik NASIBYAN (Armenia)
3. Zaur AZIZOV (Russia)
Weight category up to 100 kg
1. Mikhail MOKHNATKIN (Russia)
2. Maksim FUTIN (Russia)
3. Maksat MUSABAEV (Kirgizia)