SAMBO in Cameroon
Federations
14 August 2013
Sergei Grishin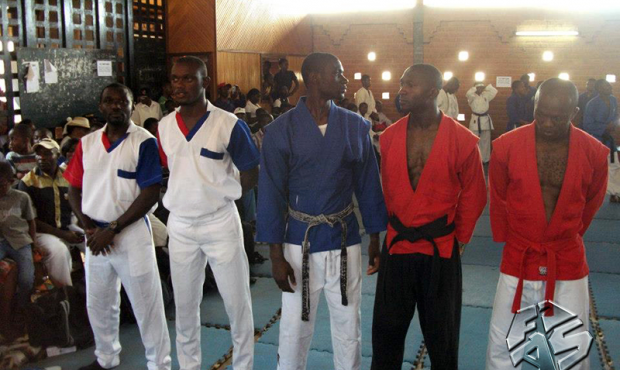 Cameroon, like many African countries – is the country of football. But it turns out that SAMBO in Cameroon loved almost as much as football and in popularity in this country it is just a little bit inferior to football. How did it happen and what still needs to be done by sambists to win a "virtual" duel we will tell in today's reporting.
On the map of this country, there are two "SAMBO points." It is the capital of Cameroon - Yaounde and economic capital - the city of Douala. In these major cities in Cameroon all interested persons could practice SAMBO. While there is no specific SAMBO clubs, it is goal for the nearest future, but for now everyone could attend classes of SAMBO in Judo and nanbudo clubs.
Officials representing SAMBO in this country - the President of the Federation of Cameroon nanbudo and General Secretary of the African Confederation of Sambo Francois Mbassi and Matip Tang, who leads the National League of SAMBO which is a part of National Federation of nanbudo. Nearest plans of the leaders of SAMBO in Cameroon include creation of an independent SAMBO Federation.
At the May SAMBO Championship of Africa in Casablanca (Morocco) the team of Cameroon was represented by seven sambists, in the end three of them went to the honorable third step of the continental championship in 2013. Attention to of SAMBO in the country evidenced by the fact that a representative of the Ministry of Sport of Cameroon arrived to support of Cameroonian athletes at the African Championship. That fact confirms the state's attention to our favorite sport in the African country.
At the institutional level Cameroon also not lagging behind, at the moment SAMBO leadership of the country has made an application to the African Confederation of Sambo to host the Championship of Africa in 2014. And there is a rumor that the chances to win in Cameroon are very high.
In February 2012, FIAS experts conducted workshops for athletes, officials and coaches in Cameroon. A year later, and to be very precise on July 13 representative of the International Federation of Sambo Master of Sports in SAMBO Viktor Kuznetsov goes once more to Yaounde. His goal - help the Cameroonian SAMBO squad in its preparations for the November World Championships in St. Petersburg.
It is a well-chosen time for a visit, Victor will hold a series of seminars in Cameroon on combat and sports SAMBO, and in three months that remain before the start of the main season SAMBO Cameroonian athletes have time to turn knowledge into skills.
How well they will use them on the World SAMBO forum in Russia's northern capital, time will tell!
Natalia Yuhareva
www.sambo.sport