Sambists took part in the Southeast Asian Games
Competitions
13 December 2019
Aleksandr Solomahin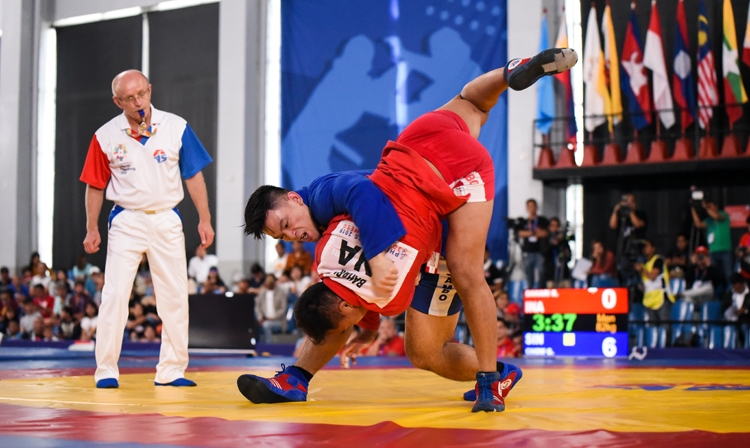 The Philippines became the venue for the first ever SAMBO tournament in the 30th Southeast Asian Games program. From 5 to 6 of December, athletes from various countries of the region fought on the SAMBO mats of the AUF Gymnasium sports complex for medals of these major multisports competitions.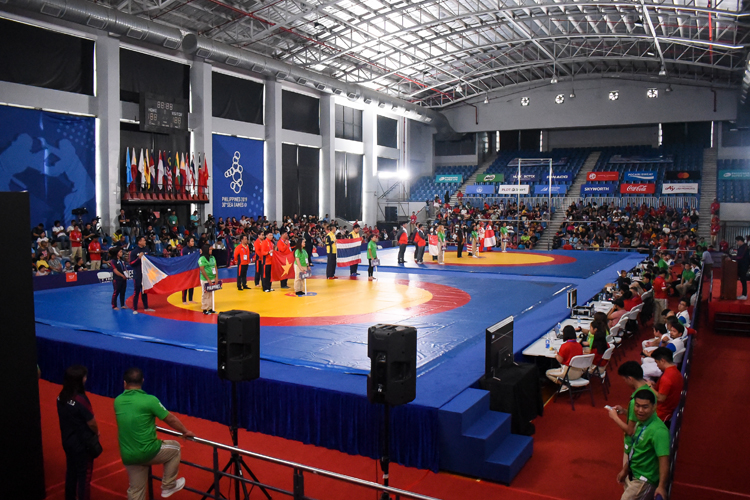 Representatives of 6 out of 11 countries of Southeast Asia arrived at the SAMBO tournament in the Philippine City of Angeles, despite the typhoon raging in the region, accompanied by the cancellation and rescheduling of many flights.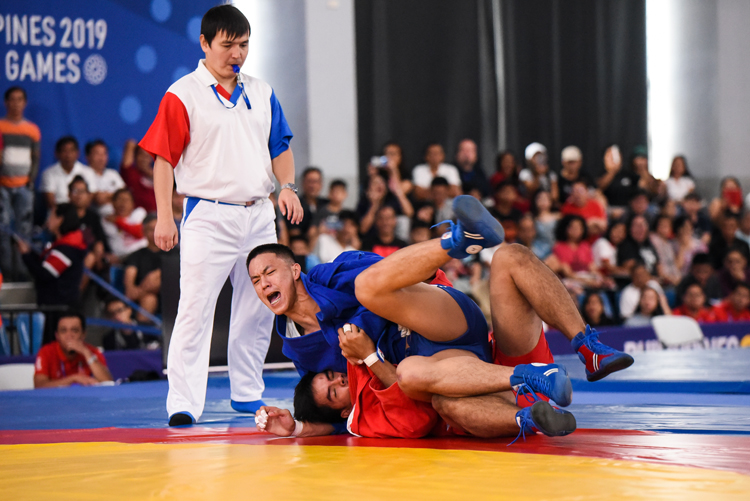 Athletes competed both in the individual standings and went out to fight in mixed teams in the "wall to wall" format. The main slogan of the Games "We Win As One" is perfect just for team competitions.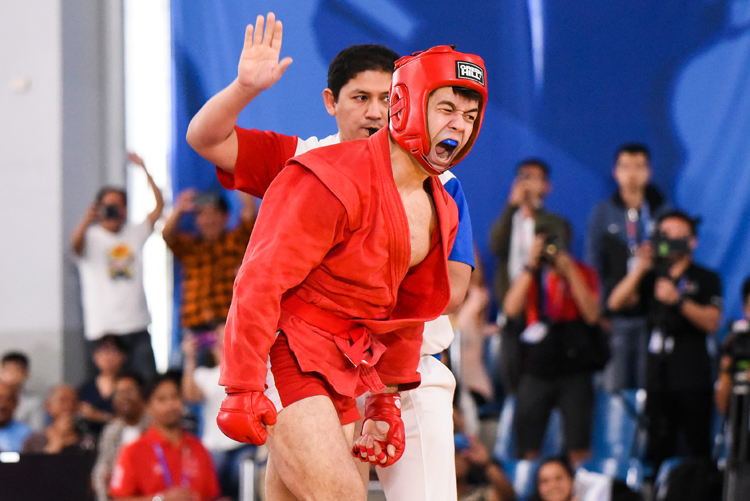 Of course, Filipino fans supported their compatriots most of all. And they bathed in a standing ovation of Mark Striegle, who won the competition in the weight category up to 74 kg in Combat SAMBO.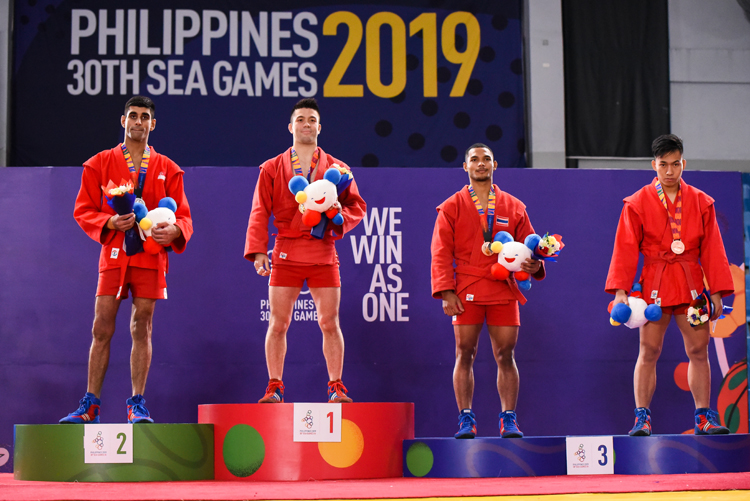 However, fans of other teams, such as Indonesian fans in the photo, also did not sit idly by and organized hot support for their favorites.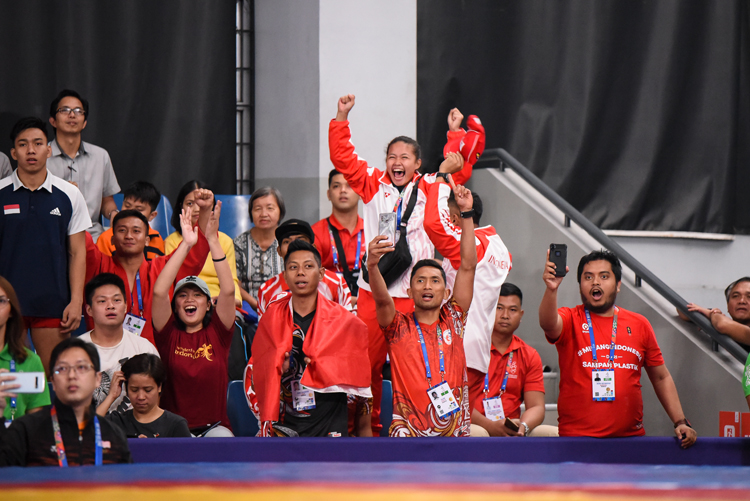 If in individual competition sambists competed in traditional disciplines: Sports SAMBO among men and women, as well as Combat SAMBO among men, then in mixed teams the fair sex also decided to show their fighting spirit and sorted out relations among themselves according to the rules of Combat SAMBO.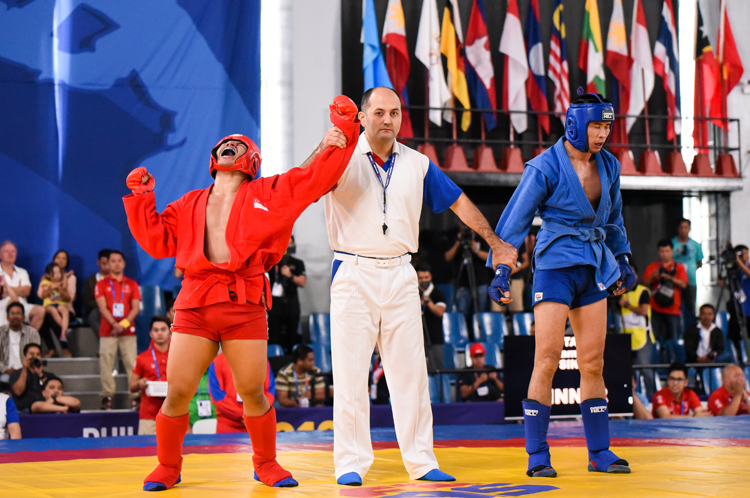 In total, 530 athletes in 56 sports (63 disciplines) took part in the 30th Southeast Asian Games. According to the participants, the competitions were held at a high organizational level, despite the raging elements and natural anomalies, and the SAMBO tournament went down in the history of the multisports event.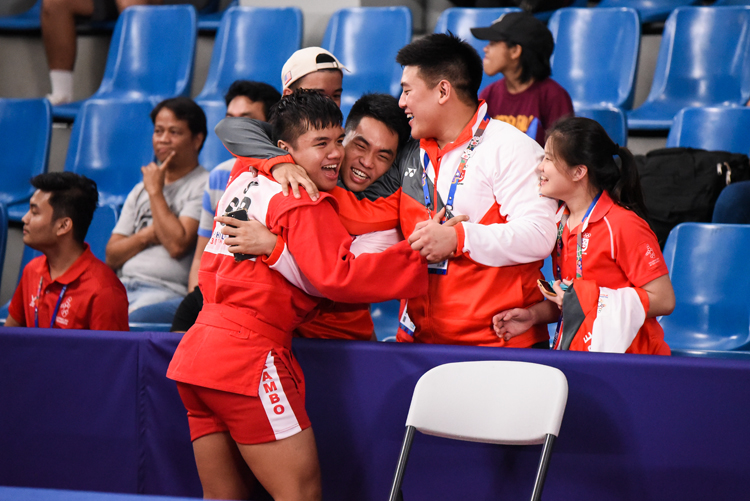 Results of the SAMBO Tournament in the 30th Southeast Asian Games program
Women
80 kg
1. RIDWAN Ridha (INA)
2. PRAWISET Chatthayaporn (THA)
3. LIM Cassiopeia (SGP)
3. DUONG Quynh (VIE)
Men
82 kg
1. SY Chino (PHI)
2. CHOW Gary (SGP)
3. BAHARI Rio (INA)
3. JENGHOR Sonram (THA)
Combat SAMBO
57 kg
1. FAJAR Fajar (INA)
2. CATALAN Rene (PHI)
3. TANG Yong (SGP)
3. RITTHIDECHA Chatchai (THA)
74 kg
1. STRIEGL Mark (PHI)
2. JASWANT SINGH Ashvin (SGP)
3. FADHILLAH Deni (INA)
3. KHUANSATHAN Arthit (THA)
82 kg
1. SUTARI Muhammad (SGP)
2. SIM Jason (INA)
3. KIEW-ON Wajana (THA)
3. MANICAD Patrick (PHI)
90 kg
1. KRISTIAN Senie (INA)
2. AFANDI Mohd (MAS)
3. LEEPAIBOON Natthapong (THA)
3. MONDEJAR Jose Rene Iii (PHI)
Mixed Teams Competition
1. Indonesia (Desiana Syafitri, Emma Ramadinah, Erik Gustam, Rio Akbar Bahari)
2. Thailand (Sasipilai Chaisang, Supattra Nanong, Arthit Khuansathan, Sonram Jenghor, Natthapong Leepaiboon)
3. Philippines (Helen Aclopen, Mariane Mariano, Jedd Andre Kim, Renzo Cazeñas, Patrick Dos Santos)
3. Singapore (Sarah Yong, Ryan Tay, Gary Chow, Timothy Loh)
Photo: Maristel Suliva