Sambo sportsmen from South Korea greeted the President of Russia Vladimir Putin
13 November 2013
Sergei Grishin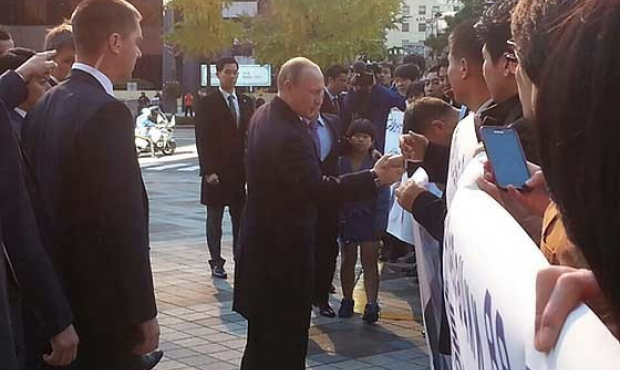 Vladimir Putin, President of Russia, paid an official visit to the capital of South Korea Seoul. The event programme comprised a lot of issues, including signature of the agreement on the visa regime cancellation between these two countries. Apart from political issues, Vladimir Putin paid attention to sports issues, among which sambo standed out.
On the day of visit sambists from South prepared posters and flags with the sambo symbols and welcome greetings for Vladimir Putin. The President of Russia evaluated the surprise prepared by the sportsmen on the merits and despite the intense visit schedule found some time to communicate with them.
"Vladimir Vladimirovich stopped on the way to the hotel to say some inspiring words and shook hands with the Korean sambists, reported the President of the Korea Sambo Federation Chon Geum Moon. – Sambists that visited the meeting will probably remember it for a long time."
The FIAS web page reported several times about active and successful sambo development in South Korea being a traditional Russian kind of sports. The national team of this country participates on the regular basis in the Championship and Youth World Championship, stages of the World Cup, the Sambo Cup of the President of Russia and already reached high level victories. Besides, in 2013 the sambo team of South Korea successfully participated in the Universiade in Kazan and II SportAccord World Combat Games. The continental championship held in June in Seoul became a model from organizational point of view.
At the moment sambists from South Korea prepare for the World Sambo Championship in Saint-Petersburg (Russia) that will take place on November 22 to 24. Less than in a year young Russian sambists will enjoy the benefits of the agreement on the visa-free regime in force between these two countries. Also in October of 2014 Seoul will host the World Sambo Championship among male and female juniors, young men and young women.
Prepared by Alexander Solomakhin