SAMBO on the front pages of Trinidad and Tobago newspapers
Competitions
11 March 2013
Sergei Grishin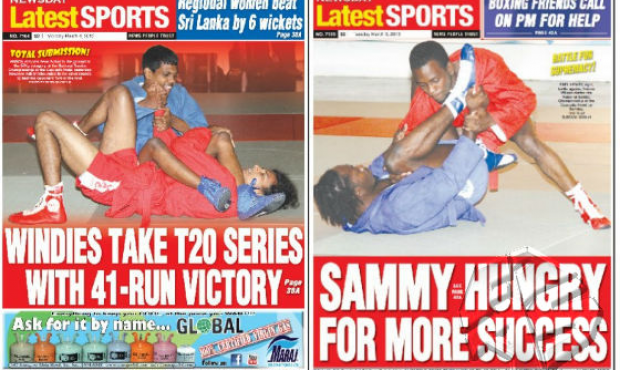 Trinidad and Tobago National SAMBO Federation is promoting SAMBO for a little bit more than one year, but it has already achieved the recognition of the Ministry of Sports. It seems like inhabitants of this South Caribbean island republic have just got acquainted with SAMBO, but the country already has a great success in the world of this martial arts.
In September, in the Pan-American SAMBO Championship that took part in Cali, Trinidad and Tobago representatives won a good many of precious metals: 1 gold, 1 silver and 3 bronze medals. It is significant that this Continental Championship was debut for Trinidad and Tobago sambists. Also, progress in promoting SAMBO in this country is seen in, at least, the fact that soon SAMBO will appear in primary and secondary schools, where it will be started with the basic FIAS program "Training of safe falling". Also, SAMBO is planned to be taught in MMA clubs.
Two of the most popular sports in Trinidad and Tobago are cricket and football that the British brought to the island. Notably, cricket is in priority – somehow it became the custom. It's like a religion there, as football in Brazil. All the mass media cover and, above all, honestly adore and admire this sport. There is even such a phrase that is popular among local journalists: "Cricket? Yeah, it appeared long time ago to stay forever".
But last Monday, on March 4, 2013 the tradition was broken. The readers of the national metropolitan newspaper "Guardian" were shocked; they didn't find any news about cricket, or even extraordinary news from the world of politics.
Cricket together with politics were "acted off the screen" by SAMBO with its final match in the weight category of 57 kg – the most brilliant battle in the first National Trinidad and Tobago SAMBO Championship that was held the day before. Besides, the team for the SAMBO World Championship 2013, that will be held in Saint Petersburg (Russia), is going to be formed according to the results of this competition.
It is clear, now the principal target is to make the appearance of SAMBO in the columns more frequent. And the activity that is conducted by the Trinidad and Tobago SAMBO Federation just shows that soon all the local newspapers will spatter with such headlines and SAMBO will prosper in this country.
Natalia Yukhareva
www.sambo.sport