SAMBO in Mauritius, the premiere was a success!
Federations
17 September 2013
Sergei Grishin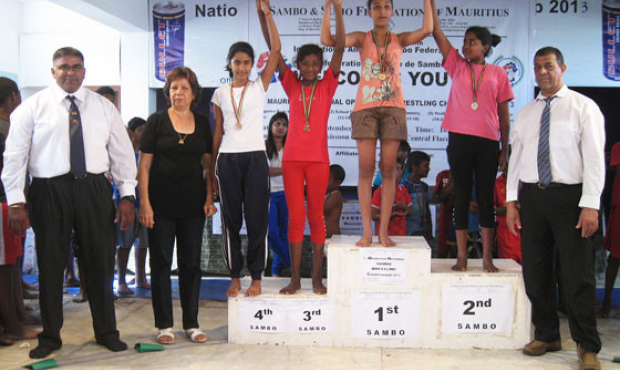 The first Mauritius National SAMBO Championship took place on September 8 at the sports complex of Central Flacq, the largest district of the country. More than 70 sportsmen from 13 regions of Mauritius took part in the tournament. The competitions were held in various age and weight categories. Earlier Mauritius was known in many parts of the world as one of the most luxurious resorts, and now it has become famous as a state in which people are actively engaged in SAMBO.
The Republic of Mauritius is a few islands glowing in the azure Indian Ocean and is a popular international resort. The city of Port Louis is the capital of the country located on the main island of Mauritius. This island is surrounded by the Indian Ocean. Almost the entire coast is white-sand beaches and untouched ocean. Emerald green forests, scenic terrain, craters of extinct volcanoes and charming beaches make Mauritius an ideal place for tourism.
You can find the detailed description of this country in different tourist brochures. However, it is likely that in the near future people will talk about Mauritius, not only when planning their vacation, but also when discussing results of international SAMBO competitions. The President of Mauritius Sumo and SAMBO Federation Parsad Balkissoon is absolutely sure about it.
- I am fully convinced that thanks to the ever increasing popularity of SAMBO in our country, it will attract more and more fans. And our Federation will do its best for us to gradually, step by step, enter into the World SAMBO Community and participate in major international competitions, - Parsad Balkissoon said.
The National SAMBO Championship held on September 8 has become one of the first serious steps in this direction. The competition was organized by Mauritius Sumo and SAMBO Federation with the assistance of FIAS and the African SAMBO Confederation. The tournament which revealed the strongest sportsmen from across the country allowed us to determine the first ever SAMBO champions and prize winners of Mauritius.
As for the local Federation engaged in the development of SAMBO, it has been recognized and registered with the state sports body called the Register of Communities and Sports Associations. Now the Federation is collecting necessary documents to obtain official recognition in the Ministry of Youth and Sports, as well as in the Mauritius National Olympic Committee.
- I suppose that thanks to the support of FIAS and personally its President Vasily Shestakov, as well as Lord Simon Reading, the President of the British Commonwealth SAMBO Association, as well as Scully Delilah, the President of the African SAMBO Confederation, our Federation will officially become a part of the big SAMBO family in the near future, - the President of Mauritius Sumo and SAMBO Federation Parsad Balkissoon said.
Prepared by Alexander Solomakhin
www.sambo.sport