SAMBO in Puerto Rico: a call to the "rich port"
Federations
7 April 2014
Sergei Grishin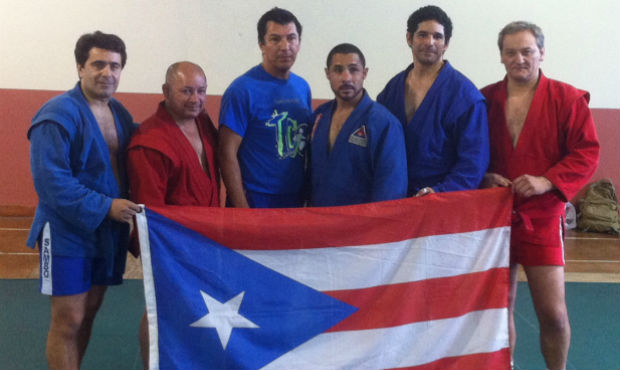 Puerto Rico is an island state located in the Caribbean Sea. Translation of the name of this country from Spanish sounds like a "free port". This is the place where recently, only a few months ago, a new SAMBO Federation has been founded – the 26th in a row in Pan-America.
We'll give a brief view of a new organisation that has expanded the international SAMBO family. Andres Muniz, a famous athlete, bronze medalist of the World Kickboxing Championship, is its President. Luís Martinez Rosado, a unique person in the world of martial arts, headed the athletes' team. In his sports days, he was the champion of Pan-America both in SAMBO and wrestling, won the "gold" of the Judo Tournament of the 1991 Pan-American Games in Havana, and was twice awarded the high honour of being the standard-bearer of the national Olympic team at the Olympics.
When such people – experienced and charismatic, having a lasting sports career under their belt, are in the clear way of the national team, you begin to understand that you can expect a lot from the athletes of the country. Now SAMBO athletes from Puerto Rico have a preparatory period which means a period of active training. Competitive cycle is also not long in coming. At the national level this will occur in July – at that time the first SAMBO Championship in Puerto Rico will take place. The Puerto Rican SAMBO athletes will "storm" the continental level in August at the Pan-American Championship which will take place in Trinidad and Tobago this year. And they will try to "climb" the height of the World SAMBO" in November. The most interesting this is that Andres Muniz is sure that his athletes will be able not only to take part in the Championship, but also achieve the right to get on the podium of the prestigious SAMBO tournament: "Our team sets ambitious plans and promises to surprise SAMBO with the gold medal of the World SAMBO Championship in Japan".
The Puerto Ricans have time to back up their wildest dreams with the corresponding work. In the meantime, about 70 athletes from 8 provinces of the country participated in SAMBO seminar, which Andrey Moshanov, FIAS Development Director, held in Puerto Rico. The seminar is sure to become a good theoretical and practical "make-up" for athletes and coaches in this country. For our part, we hope that the FIAS website will have a matter to talk about SAMBO in Puerto Rico more than once.