Sambo will be at the service of charity: official news from Seoul
President
11 October 2014
Sergei Grishin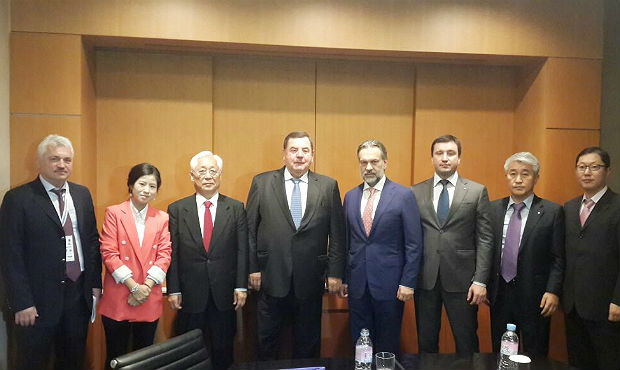 The leadership of the International Sambo Federation headed by FIAS President Vasily Shestakov met with representatives of the charitable organization World Share, which helps children from disadvantaged countries of Africa, Asia and Pan America. The organization promotes 10 charitable projects in various countries around the world, helping to provide needy children with a decent standard of living and education. Read our report about the development goals and objectives that FIAS and World Share have in common, as well as some joint projects that this collaboration will soon bring.
We'll start with statistics. World Share helps children in Korea and other countries around the world. According to its statutes, its activities are only possible in countries where per capita GDP is less than $5,000. In Asia, these countries are Mongolia and Kyrgyzstan. It's interesting that after a working trip of World Share representatives to Kyrgyzstan, the organization's leadership decided in favor of possible collaboration with the International Sambo Federation. This is because the World Share representatives noticed a huge interest in sambo in this country, and the number of children involved in this martial art surprised the Koreans and led to the idea of assistance through sports.
Not wanting to act at random, the organization decided to combine charity and sambo, which led to the meeting with FIAS leadership. Chief Adviser to World Share Kwon Kyung-ho said, in particular: "We would like to help those children in many countries who are involved in sambo. We want to give them the opportunity to train and get an education. We hope that our future collaboration with the International Sambo Federation will become another of the many successful projects of FIAS."
FIAS President Vasily Shestakov said at the meeting: "Given the economic situation in many countries, it's very difficult for governments to provide funding for children's sports. Children are not included in elite sports that earn medals for their countries, and so are often deprived of decent and necessary conditions for playing sports. And, of course, we're interested in finding support for development of our humanitarian and social projects related to promoting children's sports worldwide. This is especially true for some countries in Pan America, Asia and Africa with a difficult economic situation. We're ready to work together, and see World Share as a deserving and strong partner with whom we can more successfully implement our humanitarian and social projects."
The meeting resulted in an understanding of the areas in which FIAS and World Share will be able to collaborate. In the near future, the International Sambo Federation will make its social projects available to World Share as tools to help the organization target its charitable assistance. The recipients, who are children from disadvantaged countries involved in sambo, will have the healthy and happy life they need. Living with sambo.