Sanaa MANDAR: "I've Got All the Good Things that can be Instilled in Someone who Practices SAMBO"
Personalities
10 July 2018
Aleksandr Solomahin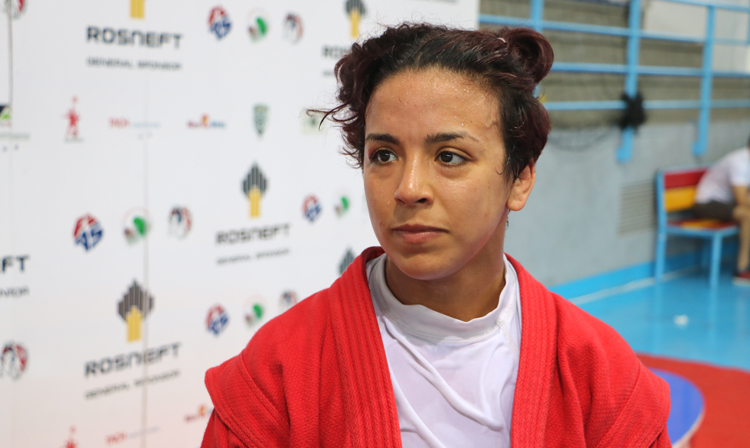 Moroccan sambist Sanaa Mandar became champion of Africa in the up to 68 kg weight category among women. In her interview to the FIAS website, she reveals why she singles out SAMBO, who comes with her to all her competitions, and what is the common attitude to women who professionally go in for sports in Morocco.
– I feel very happy about my victory, as I participated in the SAMBO Championships of Africa for the first time, and won the gold. Another reason why this award is so significant to me is that I've had a four-year break in my SAMBO practice. All this time I was actively competing in judo and wrestling, and now I decided to concentrate on SAMBO again.
– So, you are familiar with a number of martial arts. What is there that singles SAMBO out?
– First and foremost, SAMBO is a mixture of styles. To me, it is something between judo and wrestling. From all the other related sports, SAMBO is distinguished by a great diversity of techniques. In 2016, I was already in Tunisia at judo competitions, but I can say I enjoy more being in this country at the African SAMBO Championships.
– What do you do in your life, apart from sports?
– I've got my family, I've got my husband who comes with me to all my competitions and always supports and roots for me. He's my fan number one. My daughter is three years old, and she is already engaged in judo, gymnastics, and dancing. At the moment, she enjoys gymnastics most of all. I work as a fitness coach in a gym, as well as a judo coach. I'm planning to open my own gym in Casablanca, where I would coach SAMBO.
– What is the attitude in Morocco to those women who professionally go in for sports?
– On the whole, women are meant to get married, give birth to their children, and stay at home in my country. Naturally, this rejects the very idea of going in for professional sports. But for me, it was utterly impossible because I came from a family of athletes, from a sports dynasty as it were. My dad won a marathon back in the days, my sister is a champion of Morocco in gymnastics, and my brother was a champion in bodybuilding. Everyone goes in for sports in my family, and for me, the sport is more than just a pastime. For me, there was no question of my leaving the sport after getting married.
Fortunately, my husband is engaged in martial arts, too, so he supports me in everything and truly understands that I just cannot quit sports. I also wish to say that this year I've got engaged in CrossFit as well, and I have already achieved considerable results there. Thus, I managed to win the Morocco CrossFit Cup, and I'm thankful to my coach for this.
– Can you say that sports and particularly SAMBO have made you more confident in life?
– Certainly, this is true. As for martial arts, self-confidence is what every practicing athlete acquires by definition. Along with self-confidence, you start to command respect from others. On the whole, I've got all the good things that can be instilled in someone who practices SAMBO.