RUSSIAN NATIONAL TEAM WON IN THE TEAM EVENT AT THE EUROPEAN SAMBO CUP
Competitions
3 November 2017
Sergei Grishin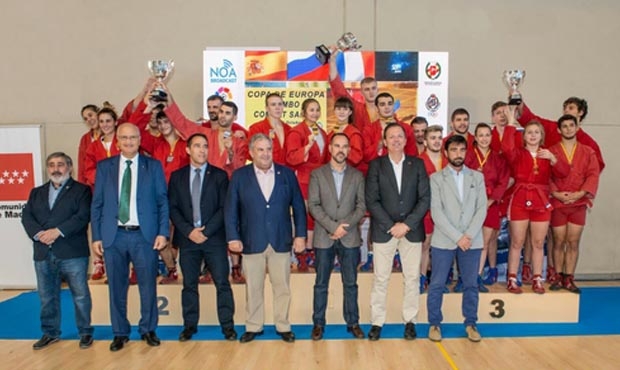 Russian national team celebrated its victory in the team event at the European Sambo Cup, which was held in Madrid on October 28-29. Russian sambists defeated the hosts of the tournament - the Spaniards - twice.
Four teams took part in the team event at the European Sambo Cup: Spain 1, Spain 2, Russia and France. Following the draw, in the first round the national team of France faced Spain 1, while Russian SAMBO athletes took on Spain 2. The first team of the hosts managed to defeat its opponents from France with the score 3:2, but the second team yielded the tournament to the Russians with the lopsided score 0:5.
Thus, Russian SAMBO athletes faced the Spanish team 1 in the finals. There was no chance for intrigue though, Russian sportsmen once again proved their superiority without losing a single fight: they triumphed with the score 5:0, winning the European Sambo Cup.
French SAMBO athletes became favourites in the struggle for the third place. They broke down the resistance of the second Spanish national team, having won 4 fights out of 5 (with the final score 4:1).
Final placing:
1. Russia
2. Spain 1
3. France
4. Spain 2
The team event was held on the second and final day of the European Sambo Cup in Madrid. During the first day the sportsmen competed in the individual event. The results of the first day were previously published on FIAS website.