Silver deer and a silver pen: journalists award athletes, and sambists celebrate the best of the world press
Mass media
16 March 2016
Sergei Grishin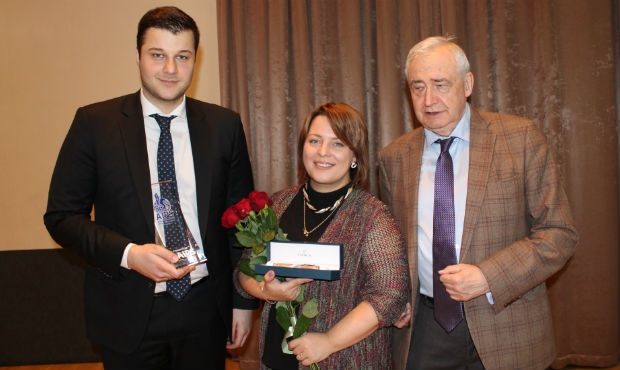 The annual Silver Deer award ceremony took place today in the building of the Russian Olympic Committee in Moscow. The award was established by the Russian Federation of Sports Journalists in the 1950s, and each year it is awarded to the top ten strongest Russian athletes, the best team and best coach. Since last year, the International SAMBO Federation (FIAS) has taken part in the event, awarding a special prize of a silver pen to the best journalist of the year according to FIAS.
At the end of 2015, TASS correspondent Veronika Sovetova was recognized as the best Russian journalist writing about SAMBO. The award was presented to the journalist by Alexander Korsik, Deputy Head of the FIAS President's Office. Ms. Sovetova commented on her thoughts about SAMBO:
"Working with professionals is already a gift. And SAMBO is all about professionalism. The FIAS team and the whole SAMBO family live for a single idea and work together to make it happen. SAMBO should be part of the Olympic family, and hopefully it will be soon. If you ask any sambist what his dream is, in 99.9 percent of cases, he'll talk about SAMBO's place in the Olympic Games. I think I've also caught on to this idea. And you'll agree that it makes work exciting."
Last year, FIAS awarded the silver pen to Nikolai Dolgopolov, AIPS Vice President and President of the Russian Federation of Sports Journalists.
Also at the event, Dolgopolov awarded Alexander Korsik a special AIPS prize for the openness of SAMBO to journalists. Dolgopolov said:
"When the International SAMBO Federation began its cooperation with the International Sports Press Association in 2011, I noticed a certain wariness and suspicion of this sport. Now I can say we've achieved great success. An AIPS SAMBO Commission has been set up, and journalists have not only learned about SAMBO, but have come to love it, to be sincerely interested. Today, it's safe to say that SAMBO has become the sport for AIPS representatives, and it's widely covered by international sports media."