Sports Complex for SAMBO at the SportAccord Games is almost ready
Кaleidoscope
22 July 2013
Sergei Grishin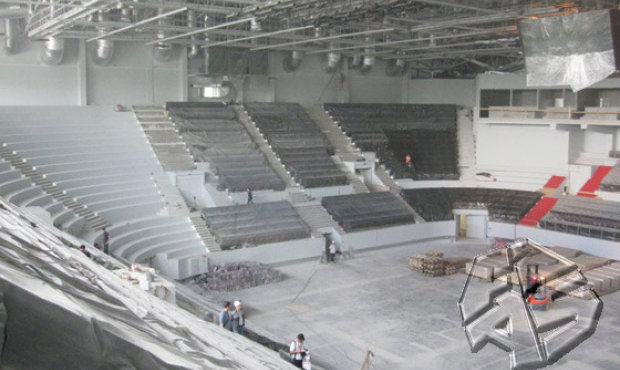 Arena for SAMBO competitions at the SportAccord World Combat Games in St. Petersburg will be ready to receive athletes as early as on September 1. Contractors who work at the facility report about such a period of full sports availability of Spartak Basketball Sports Complex. It is on this day when in Russia the Day of Knowledge is marked, when children go to school – someone for the first time, and someone after the summer holidays. We cannot but hope athletes will be able to cross the threshold of the new Sports Complex for the first time on September 1, and the arena will be already fully developed by the World Combat Games in October.
As sports functionaries in St. Petersburg say, the World Combat Games conduct gave an impetus to the process of building of a specialized Spartak Basketball Complex on Krestovsky Island. Currently construction and installation work is finishing, furniture assembly has started, all sanitary appliances are fitted and connected, landscaping of the adjacent territory is finishing. It is connected to the city's utility networks.
– They pay greater attention to our complex and the surrounding area because of the World Combat Games. Including on the part of such a large organization as the SportAccord, Ministry of Sport. Both Minister Vitaly Mutko and Yury Trutnev, Presidential Adviser came to us, – says Vadim Proskurnin, Executive Director of the Spartak Charity Fund for the Support and Development of Basketball Club NO. – Of course, this imposes certain obligations on us. But the more auditors are there, the more order is there.
Note that in the framework of the II World Combat Games in addition to SAMBO tournaments, tournaments in three more combat sports: karate, taekwondo and wushu are planned to be held at this arena from 18 to 26 of October.
– I have no doubt that the competitions will be held at the highest level. A huge banner, which shows how the arenas for the competitions will be located, how many athletes will participate, is placed at the entrance to the complex. In addition to the sports arenas, gyms, swimming pool, locker rooms will be equipped here – all of them will meet the international requirements, – explained Proskurin.
Prior to the start of the World Combat Games three test tournaments will be carried out on the Spartak arena.
– First, we will carry out competitions in basketball – the Kondrashin and Belov Cup, and then two competitions in combat sports, – explained Vadim Proskurin. – However, the World Combat Games will be in the first place for us now.
Prepared by Alexander Solomakhin
www.sambo.sport