Svetlana Galyant: "I love SPORT and I am taking this love to the CHILDREN"
Personalities
19 August 2013
Sergei Grishin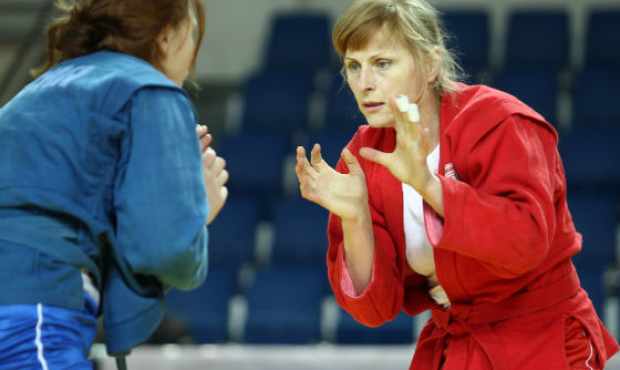 What means for the 8 times world champion in SAMBO our favorite sport, and how one day she had to apply SAMBO skills on the street? What Svetlana Galyant presented to Russian President Vladimir Putin, and for what a woman is ready in my life for any feats? Famous athlete told us about it and many other topics in an exclusive interview to the FIAS website.
Meet the Svetlana Galyant, eight-time world champion in SAMBO, Member of the Legislative Assembly of Kamchatka Krai. Right off the bat we asked her about application of SAMBO skills in life: "Like, had you?"
It turns out that one day, after not very smooth SAMBO exercise where Svetlana could not get one technique - side sweeps, she was returning home not in the mood and slightly on edge. Tipsy citizen approached with clearly non-friendly intentions asked for "smoke." This time sweep worked instantly and man who ran up to help Svetlana realized that women like her do not need help.
But Svetlana immediately corrects, "No, help is needed, every woman needs warmth and care of a loved one, a sense that she can be weak." And she was lucky enough to experience it: a man like this is with her for many years. This is Honored coach of Russia, her husband and her personal trainer Aslan Saduev. With him - in joys and troubles - they are for many years - the one and indissoluble whole.
Svetlana continues: "I believe that the love and warmth that loving man surrounds a woman - priceless. For this woman is capable of any feats. I have this love and warm and I'm happy. Of course, thanks to Aslan, I overcome difficulties encountered in my way more easily and somehow calmer. Especially difficult for me was the transition from sports only life to life combining sport and the work of the deputy of the Legislative Assembly. At this point, Aslan helped me a lot and supported on all 100%. Athletes - people from another planet. So when I got an apartment after the Olympic Games in judo I did not even know that it is necessary to pay for electricity. I disconnected for non-payment its. Used to live in an environment where no domestic problems should be solved; you should only exercise. All in all, it was fun when I got to the housing office (housing and communal services) to sort this out"(laughs).
Also, with a smile Svetlana told us about a meeting with Russian President Vladimir Putin: "It is after I as a part of Russian judo club "Yawara-Neva" won the club championship of Europe. Vladimir Vladimirovich has invited us to a meeting. I gave him our natural stone in the form of the Kamchatka peninsula. We start talking, of course, mostly about sport for which I stand up, and I believe that its development in the country - a priority of the state. Vladimir Putin gave me a souvenir - group photo with an inscription made with a gold pen: "Good luck, Svetlana!" Now this photo is the main exhibit at the place in my school that houses all the medals and awards that I have won in my career. And I remembered that meeting with the President of Russia for a long time, the atmosphere was very nice, relaxed and easy."
Joyous and festive atmosphere Svetlana plans to create in the tournament, which for the first time she held at the fall of the last year and plans to continue this tradition - in this year's tournament, which bears her name, will again be held in Kamchatka. A year ago in this SAMBO competition, which involved young wrestlers at the age of 12 years or younger participate 200 children from Kamchatka Krai. This year, young athletes from other regions will participate in the tournament, so for sure the number of children increases. Svetlana plans to make the event even more spectacular and bright.
"This is a show of young talent a chance to see them and to uncover. But the main thing, of course, is a holiday - a SAMBO holiday. This year we have chosen for the tournament more elegant and spacious hall, planning extensive entertainment program. In general, I would say that we grow up organizationally. "
Svetlana continues: "Whether SAMBO is growing? Yes, the progress is evident. I am an athlete and I look at the progress primarily from the point of view of the organization of international competitions. So, SAMBO tournaments in the world have become bigger, brighter and more spectacular. Of course, my dream is SAMBO at the Olympic level. I am very glad that our beloved sport is included into the program of the World Summer Universiade in Kazan. I regretted that, for objective reasons, I was not able to fly to Kazan, but I watched closely for the Universiade, and especially for SAMBO tournament. For all of us - is a huge step forward and a great success. "
And finally, we asked Svetlana what means SAMBO to her and what place in her life it takes. Word of eight times world champion: "I'm in SAMBO for a total of 27 years. I just love this sport and now am taking this love to the children. Why I love it? You see, it's insanely beautiful; it's such a plastic of body in motion. And for children engaged in SAMBO I believe it is simply a gift. The child engaged in SAMBO, in my opinion, more "secured". As with SAMBO he gets more: communication, healthy and beautiful body and a purpose in life. So this child is beautiful, healthy and smart. What else is needed for the education of the true person? "
Alexander Solomahin
Natalia Yuhareva
www.sambo.sport