International SAMBO Federation holds formal banquet
Кaleidoscope
24 November 2013
Sergei Grishin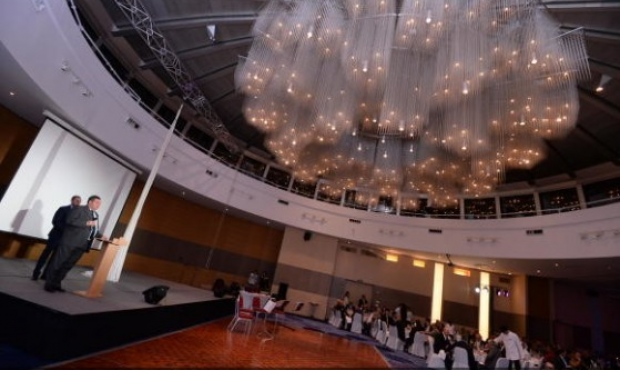 The two days of competition at the 37th World SAMBO Championships, held in St Petersburg, are already over. A lot has been packed into these days: excellent wrestling, with new champions named, stars honoured at the end of their careers, and congratulations for some SAMBO legends who have been noted for their contribution to the development of the sport. Throughout these days the priority in all the celebrations has been SAMBO itself and those who have put their heart, soul and energy into its development. And the International SAMBO Federation's formal dinner, which was held today in the conference hall of the Park Inn Pribaltiyskaya Hotel, was no exception.
The FIAS formal banquet started with words of greeting from Vasily Shestakov, President of the International SAMBO Federation, who thanked everyone present – all those brought together by SAMBO and who have worked for the sake of our beloved sport. An anniversary date is always a time to review achievements and an opportunity to remember and recognise those who are rightly considered the leading lights in one field or another. International SAMBO Federation commemorative silver cups were awarded to the following for their major contribution to the development of SAMBO around the world: Vasily Perchik, Chairman of the FIAS board of judges, Distinguished Coach of the USSR and a man of unique energy and charisma who knows everything about SAMBO judging; Dalil Skalli, Vice-President of the FIAS and President of the African SAMBO Federation, a man who for many years has been developing and promoting SAMBO on the economically challenged continent, and Alexander Chernigin, SAMBO veteran, Distinguished Coach of the USSR, Distinguished Physical Education Worker of the Russian Federation, and a key contributor into the SAMBO development in St Petersburg.
Sergei Eliseev, President of the Russian SAMBO Federation, noted the SAMBO veterans and devotees who had been invited to the northern capital from every corner of Russia and presented them with commemorative medals specially issued in honour of the 75th anniversary of our sport.
A separate part of the programme for the evening was given over to a presentation of certificates confirming a national SAMBO federation's membership of the FIAS.
After the formal part of the dinner, which was full of warm words and generous applause, the banquet continued with an entertaining programme and good company. People reminisced about the past, discussed the day's bouts at the championships and made their predictions for the following, final day of the year's most important SAMBO event, which, we would remind you, begins at 10:00 Moscow Time at the Yubileyny Sports Complex.
Natalya Yukhareva 
www.sambo.sport