Mister Olympia Tournament opened its doors to sambo
Кaleidoscope
25 September 2014
Sergei Grishin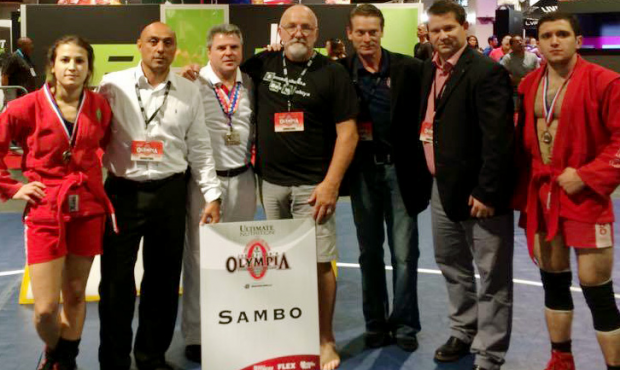 Mister Olympia is one of the most important and famous international bodybuilding contests annually carried out under the International Bodybuilding Federation in Las Vegas. This year's tournament was significant not only because of its anniversary status (this year it started for the 50th time), but also because this year the venue of Mister Olympia hosted exhibition sambo performance and contest for the first time.
Mister Olympia is a huge four-day long sports show that gathers thousands of spectators. This year the tournament's prize fund amounted to USD 710 thousand. Phil Heath won the contest, becoming its four-time winner.
Many shows, presentations and competitions took place within this tournament. This year along with kettlebell lifting, wrestling, muay thai, karate, wushu and kickboxing, many spectators were delighted to watch the exhibition performance of "self-defense without weapon". 
The sambo tournament that took place on September 19 gathered male and female representatives from three countries: USA, Canada and Russia. American arbiters Dan de Rose and Richard Crenwelge (who has recently practiced at an international arbiter workshop in Cyprus) judged the tournament. 
The spectators could enjoy the diversity of sambo. There were competitions, shows and a demo program. It should be noted that the number spectators at the sambo pavilion stayed the same from the morning to the late evening which is a proof of our favorite combat's growing popularity in America.
The American sambo historic tournament occurred thanks to Tocky Hill whose organization represents the combats at Mister Olympia and Arnold Classic. It was his support that ensured an opportunity for the American and international sambo to perform at such a prestigious international sports venue.
The sambo "premiere" at Mister Olympia was supported by Joe Neely, Director of the sambo tournament within the contest, and under the USA SAMBO Inc. headed by President James Binns and Vice-President Mikhail Kozitsky. 
All of them were able to ensure a high-level sports component and judgment and to justify a high international status of this tournament.