Fifth Asian Beach Games in Danang – the sambo tournament starts tomorrow
Competitions
29 September 2016
Sergei Grishin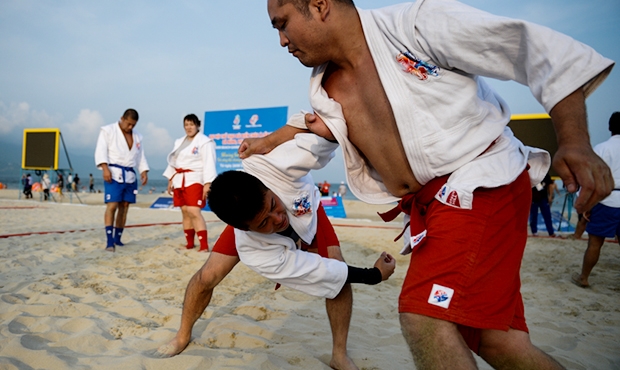 Tomorrow in the Danang, Vietnam, the sambo tournament of the Fifth Asian Beach Games shall begin. The sambo tournament will last for three days. Today, on the eve of the start of this wonderful celebration of beach sambo in Asia, everyone is very busy, and you can find out what they are doing in this article.
Training is law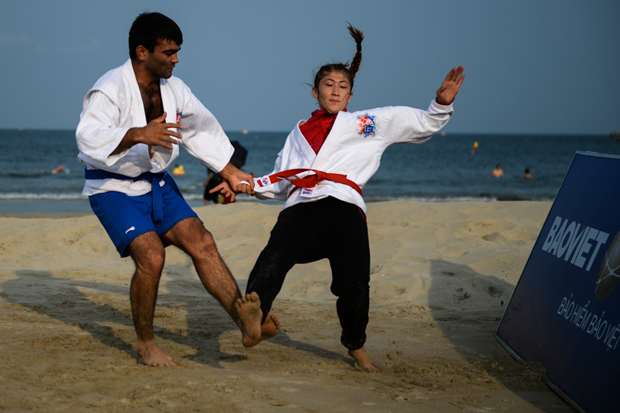 That is what all sambo teams believe for sure, but only few decided to test the conditions in which they will be fighting tomorrow. Teams arrived from Uzbekistan, Syria, Iran and Japan at the beach of the South China Sea, where there are two clusters and where the competitions of the games will be staged. Warm-ups, bends, throws, light randori in play style. Everything to acclimatize and get in working form. And they have to feel the local sand, which is unusually gentle and white, as well as the heat, which gives out humidity and covers you with a warm wave. It is for this that teams decided to hold a training session where the battle for medals in the prestigious Games awaits them tomorrow.
The referees also trained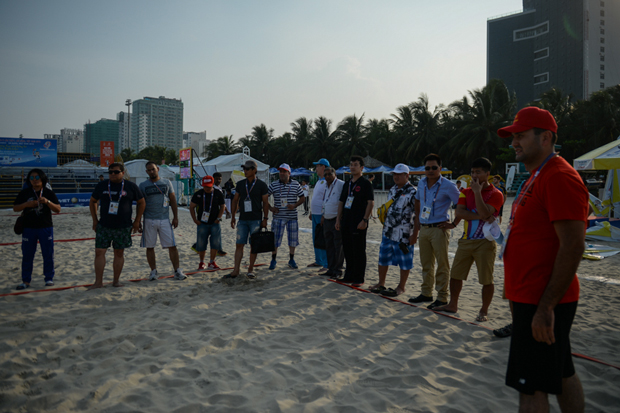 At a parallel site there was also training on mats, but for the referees. The rules here are a little different, so a lot needed to be clarified, checked, and consolidated. Led by the head referee, Mahmoud Abdulloyev (Tajikistan), the referees are clarifying details, asking questions, and testing future situations in practice. Some of them are refereeing beach sambo for the first time, and the difference in rules takes some getting used to.
And some gives interviews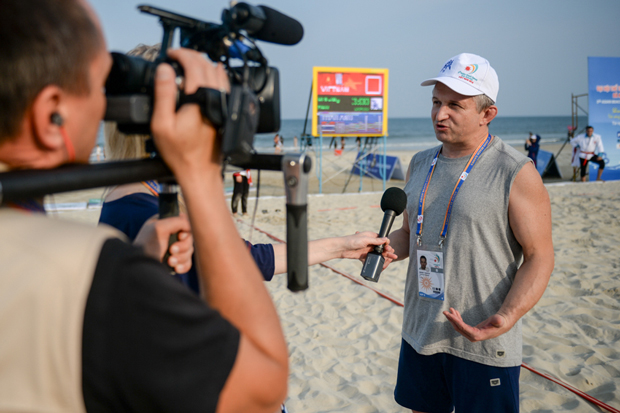 Tomorrow at the mixed zone, there will be interviews with the heroes and champions of the Games. Today is the officials' turn. An interview to FIAS television group is given by Sergey Tabakov, Executive Director of FIAS, which is also a technical delegate at this tournament. That is why, he thoroughly knows absolutely everything that will be happening here tomorrow. Very soon, take a look at our website and the FIAS YouTube channel for a report about the preparations for the Games which will include this interview.