Manchester Town Hall hosted a gala reception marking the start of the II President's Sambo Cup
Official
27 September 2015
Sergei Grishin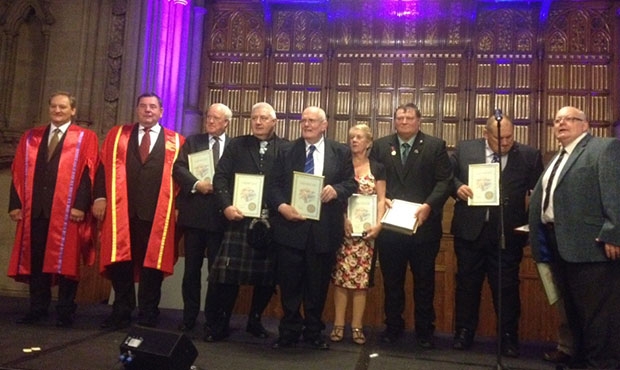 Manchester Town Hall yesterday opened its doors to all guests and organizers, partners and friends of the tournament. The Town Hall is a beautiful building in the Gothic Revival style built in 1868. The grounds of the Town Hall are decorated with sculptures of people who played an important role in the city's history, and yesterday inside the building were the elite of British Sambo - the people who have made and continue to make the history of this martial art in the UK and the Commonwealth. The reception was attended by Princess Catherine, who spoke warmly about Sambo as a tool for unifying countries and peoples at the start of the evening.
During the reception, there was a ceremony honoring well known British Sambo wrestlers and people whose activities are connected in some way with "self-defense without weapons". FIAS President Vasily Shestakov awarded certificates of the International Sambo Federation and silver FIAS badges to a number of people for their contribution to the development of Sambo in the UK and the Commonwealth: to Maurice Allan - world Sambo champion in 1975; Rowena Sweatman - world champion in 1992; Robin Hyslop, Steve Pullen and Richard Barraclough; Martin Clarke - President of the British Sambo Federation; Michael Parker - Chairman of the Sambo Association of the British Commonwealth; and Valerie Clarke.
Dr. James Lee-Baron, Director of the British Institute of Martial Arts and Sciences, was also present at the reception. The institute is the only university in the UK where you can graduate as an instructor in martial arts. In his welcoming speech, Dr. Lee-Baron noted that the institute will now offer specialization in Sambo. The process of organizing the teaching staff is currently underway, and a diploma in Sambo coaching will soon be available. This will undoubtedly be another step in the development of "self-defense without weapons" in the UK.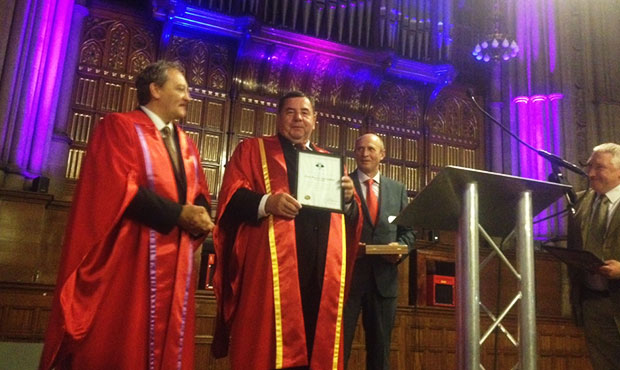 FIAS President Vasily Shestakov was promoted to the rank of Honorary Professor of the British Institute of Martial Arts and Sciences, and was presented with a robe and a diploma. The rank of Acting Professor was awarded to FIAS Development Director Andrey Moshanov, whose tuxedo at the reception was also graced by the academic robes of a distinguished person in the UK institution.
[Photogallery] State reception dedicated to the launch of the President's Cup II Sambo at Manchester Town Hall