First National SAMBO Day held in Hungary
Federations
30 September 2013
Sergei Grishin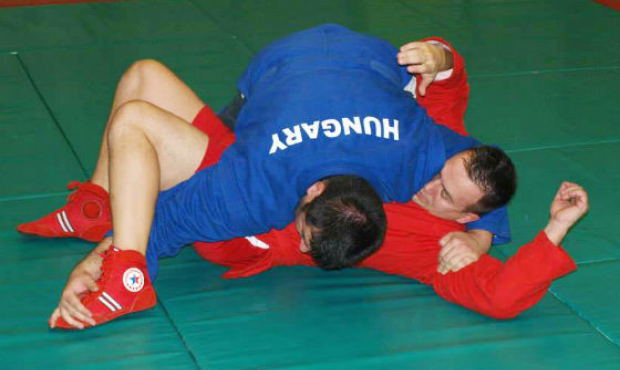 The first national SAMBO day was held in Hungary on September 28. Local SAMBO athletes studied the theory of martial arts at a special seminar, learned the subtleties of the rules during literacy classes, and secured the theoretical knowledge by participating in sparrings. According to the Hungarian Sambo Federation, the event was attended by not only SAMBO athletes of local clubs, but judoists who are keen on SAMBO.
This event followed a series of SAMBO seminars that had been held in Hungary since May. The National Federation has set the task of popularizing SAMBO in the country for maximum number of people to know about this type of sport. The representatives of the Hungarian Federation fairly believe that after learning about SAMBO people will want to be engaged in this martial art.
– The Hungarian Sambo Federation is still a young organization, but we are working hard to popularize SAMBO in our country. In the summer we organized and held a few seminars of different directions, namely, for security services and military forces, for sportsmen engaged in mixed martial arts, self-defense for women, for children and youth, as well as for other sportsmen, - the President of the Hungarian Sambo Federation Imre Papp says. - Thanks to these measures there are many people who are willing to practise SAMBO in our country, and our SAMBO athletes were invited to participate in various sporting events.
In addition to the development and promotion of SAMBO in the country, the Hungarian Federation actively tries their hand in the international arena as well. The national team of the country has medals won at the open tournament in Slovakia and Austria, as well as the 2012 World Cup, the 2013 World Cup stage Memorial A. Kharlampiev and the 2013 European Championship. Hungarian SAMBO athletes have not participated in major international tournaments yet, but they believe that the key to success is intense training and constant practice in competitions.
It is worth noting that the Hungarian Sambo Federation was founded in 2009 and nowadays has contacts with the National Olympic Committee of the country. In addition, the Hungarian media enthusiastically cover the activities of the local Federation, telling the audience about all major SAMBO events and competitions. But the Federation, in turn, is trying to "infect" as many people as possible with the "SAMBO virus" that, as opposed to other viruses, always benefits everyone's health.
Alexander Solomakhin
www.sambo.sport