Vasily Shestakov: about sambo at European and Olympic Games
President
1 September 2014
Sergei Grishin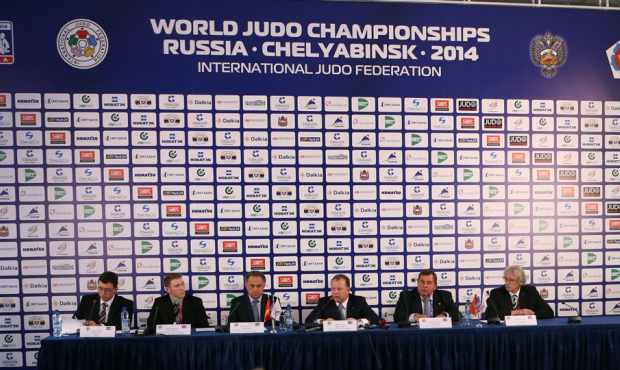 For the world of combat sports last week went by under the aegis of World Judo Championship which commenced on August 25 in Chelyabinsk, Russia. This city also became a place where an important step for the sambo world has been announced. Thus, a cooperation agreement has been signed between International Judo Federation and International Sambo Federation at the final World Judo Championship press-conference. To learn what other events important for sambo happened this week, read the interview given by FIAS President Vasily Shestakov to Veronika Sovetova, a special correspondent of ITAR-TASS News Agency.
The International Olympic Committee (IOC) may recognize sambo as soon as in 2015. This news has been announced by the President of International Sambo Federation (FIAS) Vasily Shestakov in an interview given to ITAR-TASS correspondent.
"For several years FIAS has been methodically working to promote our sport into the Olympic family," said Shestakov. "At first we were planning to enter the Olympic program in 2024, however, we may be recognized by IOC this or next year."
Shestakov reminded that representatives from 75 countries participated in the last year's World Championship that took place in Saint Petersburg. And there is going to be even more of them at the next World Championship in Japan.
Concerning sambo being included into the Olympic program, according to ITAR-TASS's interlocutor, it is necessary to carry out a range of works. "A journey of a thousand miles begins with a single step," he emphasized. "It may happen that out long-cherished goal will be achieved even before 2024. Thomas Bach, IOC President, pursues an interesting modern policy advocating for decreasing the number of sportsmen and increasing the number of sports. I think this position can turn in favor of sambo."
On August 29, sambo was officially included into program of the first European Games which are going to be held in Azerbaijan capital in June 2015. "For some participants European Games in Baku will become a qualification for the next Olympic Games in Rio de Janeiro, and for European sambo athletes these Games already represent a kind of Olympic Games," said Shestakov. "We would like our sport's representatives to make excellent performance at the Games showing top-notch combat techniques that would appeal to the audience."
The next step for promoting sambo to enter the Olympic program, according to Shestakov, shall be this sport's recognition by the Pan American Olympic Committee.
Concerning the large number of sambo weight categories for tournaments, Shestakov noticed that FIAS is willing to re-evaluate this issue for the sake of audience appeal and convenience. "We understand that if we enter the Olympic program, the tournament cannot be held with such a large number of medal sets," Shestakov remarked. "That is why we need to think of a rational formula to determine the number of weight categories with which IOC would feel comfortable, and we would still be interested, and the audience would not miss anything."