Victor NEMKOV: "I have a hard time in training against my brother"
Personalities
15 February 2022
Aleksandr Solomahin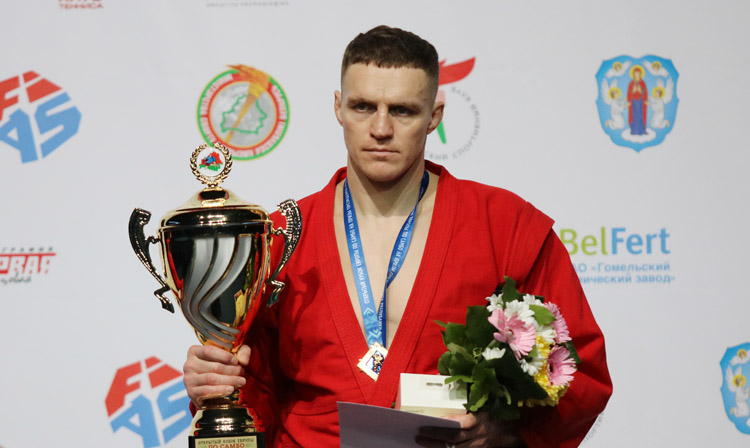 Russian athlete Viktor Nemkov became the winner of the Open European SAMBO Cup, which was held in Minsk on February 12-13. He had no equal in the weight category up to 98 kg in Combat SAMBO, and all the fights of the Russian at the tournament ended ahead of schedule. In an interview for the FIAS website Victor spoke about his dominance in competitions, his impression of Minsk, as well as sparring with his brother.
Victor, from the side it seemed that the victory in the tournament was very easy for you. Was it really so?
- Indeed, all the fights were easy, and I was able to win ahead of schedule. This is good. I set myself the goal of just starting, feeling the competitive spirit before the Russian Championship.
Did you perform at the tournament in Minsk for the first time?
- This is my first time in Minsk, I have never been before. I really liked the city – it is beautiful. We walked a little with the guys along the streets, we had pleasant impressions.
Were you afraid of getting injured before the national championship?
- I already have a lot of experience, I have been doing SAMBO for a long time, so I perform accurately, without injuries. Everything went well, so I'm happy.
What are your goals for this season?
- I would like to win the Russian Championship, and go to European or World Championships. I hope that this will work out, but it will become clearer after the results of the national championship. I also plan to have a mixed martial arts fight closer to summer.
Now your brother Vadim is preparing for his fight in mixed martial arts. How involved are you in this process?
- We train together, I'm preparing my brother for a responsible fight as part of the team. We spar constantly, we spend a lot of time on the mat. I try to copy the fighting style of his future opponent, and my brother works out his technique. Now I have a very hard time even in training against my brother - he is fast, agile, strong. So I believe in his success, I wish him victory and I will help in every way I can.