Viorel Ghyska participated in the elections of the Olympic future of Romania
Competitions
9 March 2013
Sergei Grishin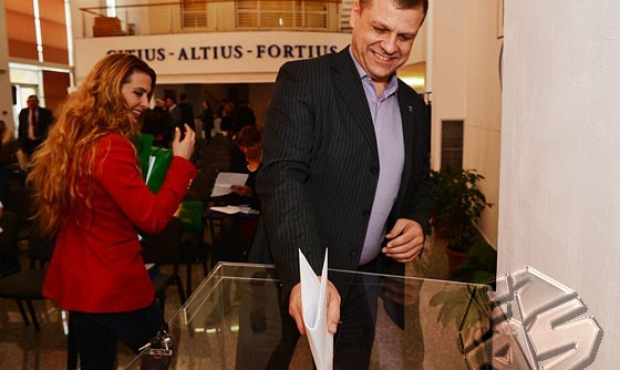 The Romanian SAMBO Federation – is one of the strongest in Europe, and what's the main, is rapidly gathering pace of development. At the moment the Romanian Federation headed by the President Viorel Ghyska, has an allocated budget in the Ministry of Sports of Romania, as well as recognition of the National Olympic Committee of the country. The Romanian SAMBO was also noted at the organizational sports arena – it is in the capital of the country Bucharest the Old World Championship among Youth took place last year.
There is a visible progress of Romania in sports sector. At the above-mentioned European Championship the home team won a gold, silver and several bronze medals. At the World Championship among boys, girls and juniors in Sofia the Romanian statistics was the following – 1 gold, silver and 2 bronze medals. It is true that on the adult arena in Minsk they remained outside the winners list having got the fifth and seventh places, however the impressive progress in the Romanian SAMBO is evident.
This week the Romanian sports elite gathered in Bucharest at the General Assembly of the National Olympic Committee of the country. SAMBO players were also among the guests. SAMBO was represented by Viorel Ghyska – the man responsible for this martial art in Romania. The focal point of the meeting agenda was the elections of the President of the NOC, and in the result Octavian Morariu was unanimously elected. The electoral activities also touched the elections of the Executive Committee of the main Olympic body of Romania.
Viorel Ghyska commented on the official event, so important for the Romanian sports, specially for FIAS site: "There is a very important detail in the development of our beloved SAMBO in Romania – is a membership with voting rights in the NOC. In Romania interest in SAMBO is growing, sections are found out not only in private sports clubs, but also in the clubs that are directly subordinate to the Ministry of Sports. It implies the development of SAMBO at school age, the creation of real basis for "growing up" and selection, rather than borrowing athletes from other martial arts. On the recommendation of the Romanian NOC management the negotiations with representatives of departmental clubs "DINAMO" and "STEAUA" (CSKA) were conducted to found out SAMBO sections. As early as in April 2013 the sections will start working. We've begun to work actively on the translation of the literature into Romanian and hope for the help of FIAS. At this stage we are preparing to participate in the World Cup "A. Kharlampiev Memorial" that will be held from 22 to 25 March in Moscow.
A little time is left until we will know the medal statistics from the European Championship among boys, girls, and juniors. We remind you that the Old World Championship among Youth will be held in mid-April in Limassol (Cyprus). There isn't a shadow of doubt that Romania will be among the leaders of the European Youth SAMBO.
Natalia Yukhareva
www.sambo.sport