"For the first time in my life I've won a World Sambo Championship"
Competitions
18 November 2015
Sergei Grishin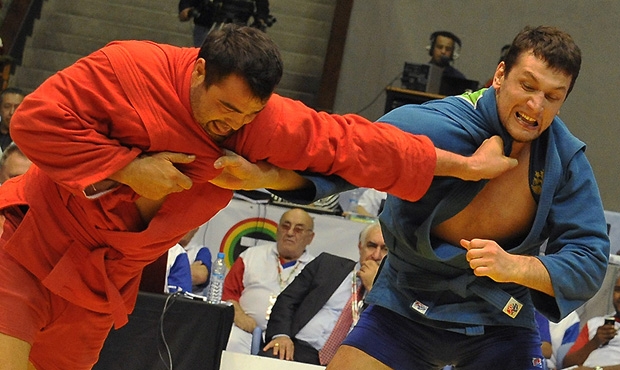 Participants in the third day of the World Sambo Championship 2015 in Casablanca, Morocco share their motions and impressions in an interview on the FIAS website. Togliattiazot JSC is the official sponsor of the World Sambo Championship 2015 in Morocco.
Russia's Anastasia Valova was the champion in the weight category up to 56 kg. She was stronger in the final than her French opponent Laura Fournier.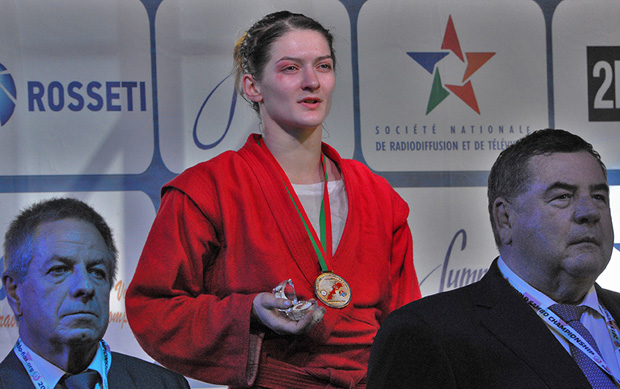 "Three years ago, I fought at the World Championship and came in third," Valova told reporters. "Of course, I really wanted to win and I'm very glad that I succeeded. Many thanks to my coaches. My opponent and I met earlier at the World Cup in Moscow, but then I just barely won. I worked on my mistakes with my coach. I wasn't quite ready for the fight today, but then I managed to get myself together. I remembered everything we worked on during training and that helped me a lot."
Belarusian Sambo wrestler Ivan Aniskevich got a great gift on his birthday: he won a gold medal in the World Championship in the weight category up to 62 kg. Right after the results were announced, his teammates began to sing "Happy Birthday!" in unison from the stands.
"For the first time in my life I've won a World Sambo Championship, and I'm so happy. Today is my 27th birthday. This good feeling lasted all day, everything favored me, so it was easy for me to get ready for the fight," Aniskevich said. "This is the first time I've fought at a World Championship on my birthday. It usually falls on days when I'm training for a tournament, so I've never really celebrated it. My wife, relatives and friends congratulated me this morning. Tomorrow we'll go to the beach with the team. I didn't go before the fight, because I was afraid to catch a cold. Then we'll fly to Belarus, where we'll get together for a double celebration."
Almas Suleymenov from Kazakhstan quickly ended his final fight against Russian Amyr Bakrasov in the weight category up to 52 kg in Combat Sambo.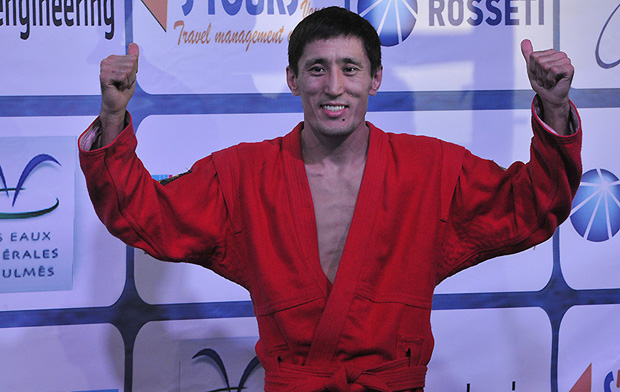 "The fight wasn't going to be easy, but I got my opponent in a hold and managed to win. This is the second time we've met — the first time was last year in Japan, also in the final. I was luckier so far: I turned out to be stronger twice. I have three wins at world championships to my credit now," Suleymenov said. "The feelings of winning a championship never get dulled; victory is always a joy. I really wanted the flag of Kazakhstan raised in my honor again. I'm glad it happened. The African championship has its own color, especially the local support group with drums, songs and dances. Everyone back home knows I won in the final. We show the competitions live, so I think the phone is bursting with congratulations. Thanks a lot for that!"
Russian Sambo wrestler Olga Zakhartsova won her first gold medal at a World Sambo Championship in the weight category up to 68 kg. However, she wasn't very happy with the quality of her fighting.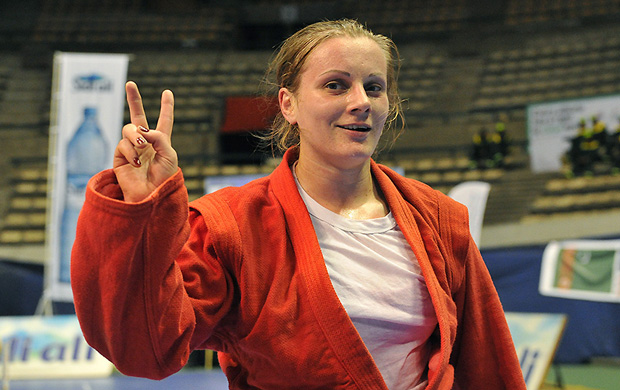 "I had my heart set only on winning at the World Championship," Zakhartsova told reporters. "I'm glad I won, but we're really picky girls, and we want to win beautifully. I'm a bit disappointed that I couldn't use what I wanted, because a fight should be entertaining. I was really nervous before the final, because this is my first adult world championship. I tried to be active, but I was a bit upset. My coach and I agreed that I would do a standing over the back throw — my trademark throw. But in the end I didn't do it, and I'm really upset."
Finnish Sambo wrestler Johanna Ylinen also looked a bit upset, but for a different reason. A bronze medal in the weight category up to 68 kg wasn't a real accomplishment for the Scandinavian athlete.
"Of course, this medal means a lot to me. I did my best to get to the final today, but the Georgian athlete was too good. On one level, I'm glad I finally managed to win a bronze, but I'm still kind of disappointed, because I wanted to win a gold. Not many people in Finland know about Sambo, but the number is growing every year. I love this sport and hope my achievement in the international arena won't go unnoticed."
However, Moldovan Sergiu Oslobanu was really pleased with his success in the finals in the men's weight category up to 82 kg. He barely managed to win a difficult fight against Russian Ilya Kokovich.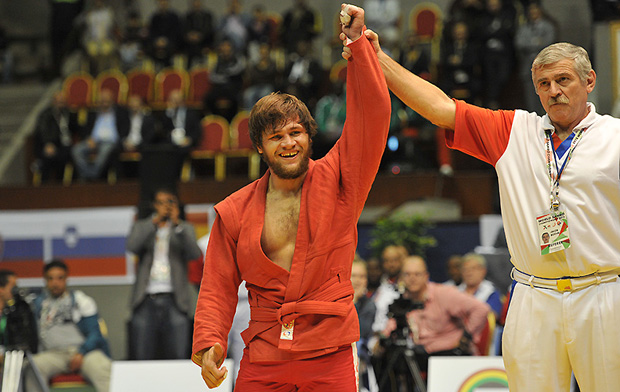 "It was a really tough fight. I knew I would fight well, but I wasn't sure if I could win. But today was my day! Thanks to my coach, my family, all my relatives and friends for their support. I tried to ignore the shouts of fans in the stands, but in the last few seconds, I clearly heard my coach urging me to hold out to the end. I dedicate my victory to my coach. I won a gold at the European Championships in Zagreb this year, and now I'm a world champion in Casablanca. I set a goal and worked hard for it. Winning was hard, but nothing in life comes easily," Oslobanu said.
Arman Ospanov from Kazakhstan was unequaled in the weight category up to 68 kg in Combat Sambo.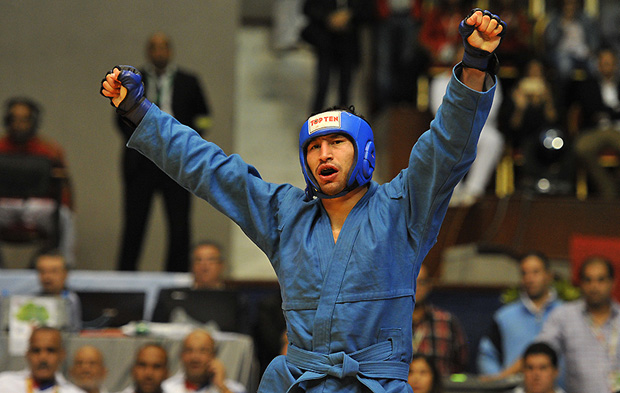 "I did my best for the sake of my family and for all sports fans in Kazakhstan, who stayed up late at night watching the live broadcast of the World Championship. I've been training for this victory for a long time, because the World Championship is the most important tournament in Sambo. I trained in various areas, but I concentrated on clinches, because you can't do anything in Combat Sambo without clinches," Ospanov said
Anna Balashova from Russia won her third world championship in the weight category over 80 kg. In the final match, she was stronger than Georgian Elena Kebadze.
"The final fight was hard for me, because I was fighting with this opponent for the first time," Balashova told reporters. "We were also different in height (her Georgian opponent was shorter), which was awkward for me. I watched her during the tournament and did everything I planned with my coaches in the final. However, I'm a bit disappointed. I wanted to win, I love making a throw, but it didn't work. I won from experience, because overall I controlled the situation on the mat."
In contrast to the slightly disappointed Russian gold medalist, Cameroonian Sambo wrestler Wetie Diodjo looked incredibly happy.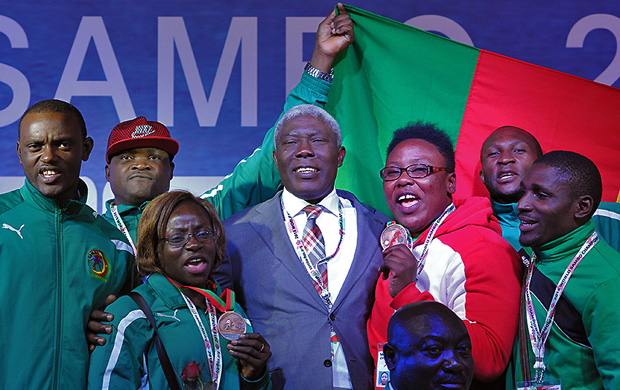 "Last year, at my first World Championship, I was fifth. Today I managed to achieve more and win a bronze medal. This is a great success, and I'm glad it happened at the World Championship in Africa," Wetie Diodjo said.
Russian Artem Osipenko became a world champion for the fourth time in the weight category over 100 kg. He quickly beat Tajik Nabamukhamad Khorkashev in the final match.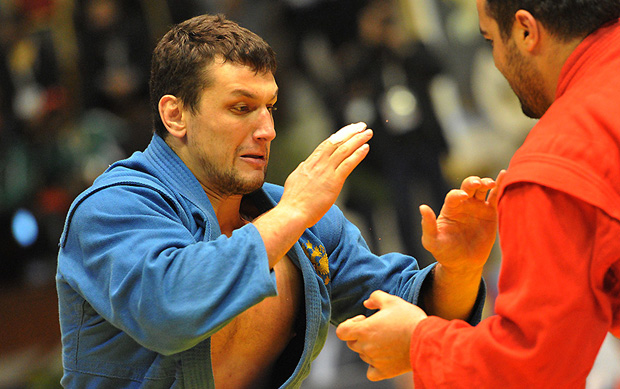 "The challenge in the final was to 'turn off' my opponent's right hand — he's strongly right-handed," Osipenko said. "At first he tried to deceive me by taking a left-handed position, but I saw through it. Then I began to 'turn off' his right arm and throw him down to get him in a hold. Things didn't turn out quite the way I wanted (my Igrushkin throw failed), and I moved to a painful arm lock. I felt excitement before the final, just like any normal person. But my coach spelled out everything for me — how to fight — and I just followed his orders."
It took Russian Vyacheslav Vasilevsky only 47 seconds to win his final match in the weight category up to 90 kg in Combat Sambo. He seemed really happy with the results of the fight.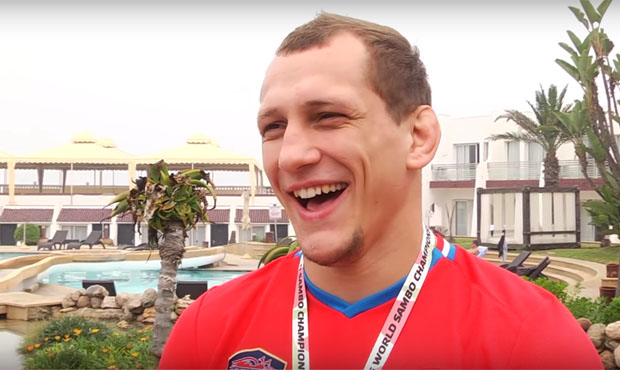 "I'm pleased with the quality of my performance. I didn't give up a single point in any fight, I didn't get my knuckles rapped, and I knew I would win," Vasilevsky said. "The toughest fight was the semi-final with Kyrgyz wrestler Zhanybek Amatov, who competes in serious mixed martial arts tournaments. He's a good striker who moves cautiously, so I didn't take any risks with him. I moved around for twenty seconds and kept an eye on him, so I wouldn't stumble on a counter punch. My opponent in the final was new for me, but you can always expect Bulgarians in the final. There's a different atmosphere in Morocco. Fighting in St. Petersburg two years ago was much easier emotionally, because there's a lot of support at home. In Africa, I needed time to adapt, and the loud background music during the fights took some getting used to. I needed time to readjust to these conditions too. I still won the fight quickly, but there's a lot of training behind every victory."