Meeting of representatives of the Pan American SAMBO Federation in Asunción
Official
27 August 2016
Sergei Grishin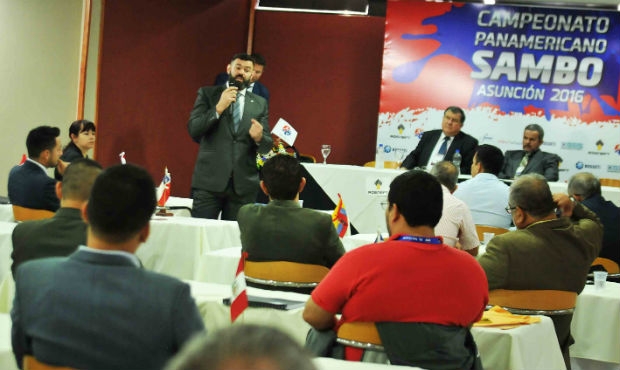 Delegates from 23 countries took part in a meeting of representatives of the Pan American SAMBO Federations. Tomorrow, their athletes will be fighting for prestigious medals of the continental SAMBO forum, but today, the heads of the national federations discussed the prospects of SAMBO on the continent and outlined the organization's next steps.
Welcome by the championship's organizers
As always, the meeting began with a welcoming speech of the event organizer. In his speech, Daciano Ojeda, President of the Paraguayan SAMBO Federation, said: "I'm delighted to welcome you in our country and very proud that today we're off to such a great start. I'm also very pleased to see delegates from 23 Pan American countries here at the congress. This championship is both a challenge for us and a boost to future development. We have tried to do everything possible so that you like our country. I am confident that you will remember our championship for a long time for both the level of organization and interesting fights."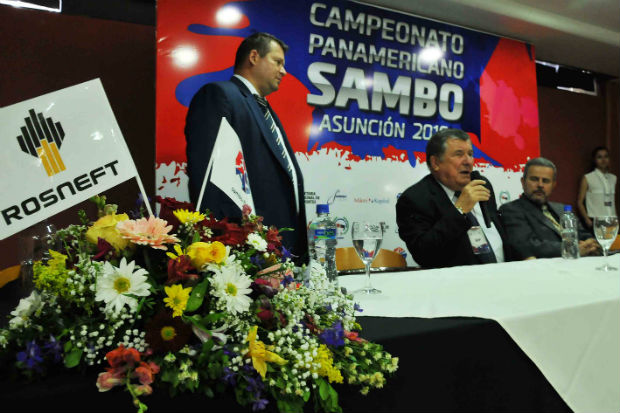 Juan Pablo Melo on registration of the Pan American SAMBO Federation (COPASA)
The President of the Argentinian SAMBO Federation made a short statement: "The Pan American SAMBO Federation (COPASA) was officially registered under the agreements made between national SAMBO federations in Argentina in May. This was done so that the organization would receive official legal status in order to start working to promote the development of SAMBO on the continent as soon as all administrative issues are resolved." By a majority vote, the congress delegates acknowledged COPASA as the sole recognized organization involved in developing Pan American SAMBO on the continent.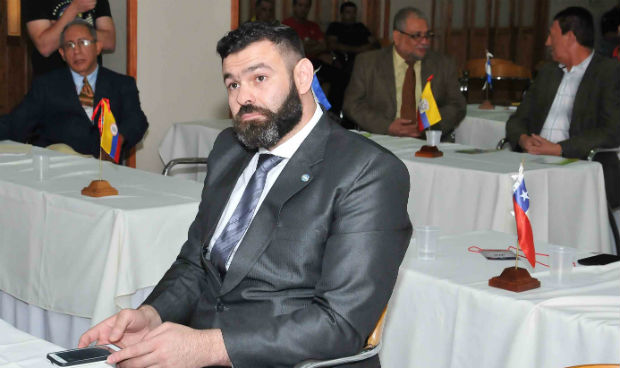 Working Committee for the development of Pan American SAMBO
The delegates also elected 4 members of a committee, whose primary task will be organizational and administrative work to create the Pan American Federation. The following committee members were elected: Evgeny Galiyanov (Canada), Carwyn Holland (Guyana), José Luis Gálvez (El Salvador) and Juan Pablo Melo (Argentina). They will spend a year on preparing a charter and all regulatory documents for the future federation, with consideration of the interests and opinions of national Pan American SAMBO federations. At the next congress, which will be held just before the Pan American SAMBO Championships 2017, delegates will approve all of these documents, as well as elect the federation leadership and members of all committees and working groups necessary for the success of Pan American SAMBO.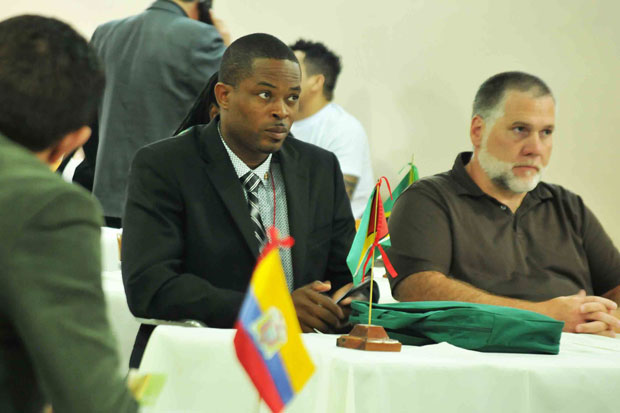 Applications for the Pan American SAMBO Championships 2017
Guyana, Colombia, Honduras and Costa Rica have applied to host the Pan American SAMBO Championships 2017. A decision on the choice of the next host country will be made in the nearest future.