Second day of the 2014 European Sambo Championships: victories and defeats
Competitions
18 May 2014
Sergei Grishin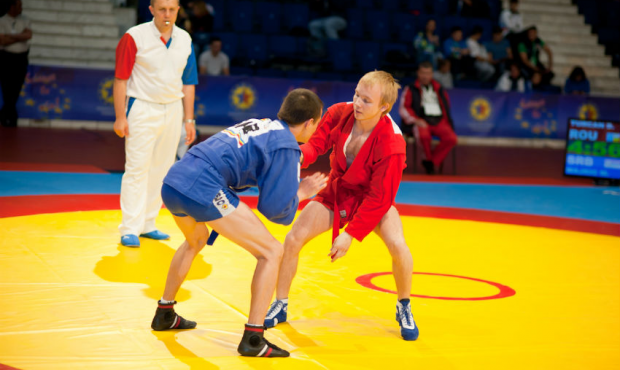 The second day of the European Sambo Championships in Romania extended the range of countries taking gold medals home. On 17 May Azerbaijan, Israel and Georgia added their first golds of the championships to their medal haul. On the same day, representatives of Belarus, Bulgaria and Russia also took their place on the top tier of the winners' podium. For the Russians, the second day of the championships was also a day of injuries which prevented many favourites from achieving the result they wanted.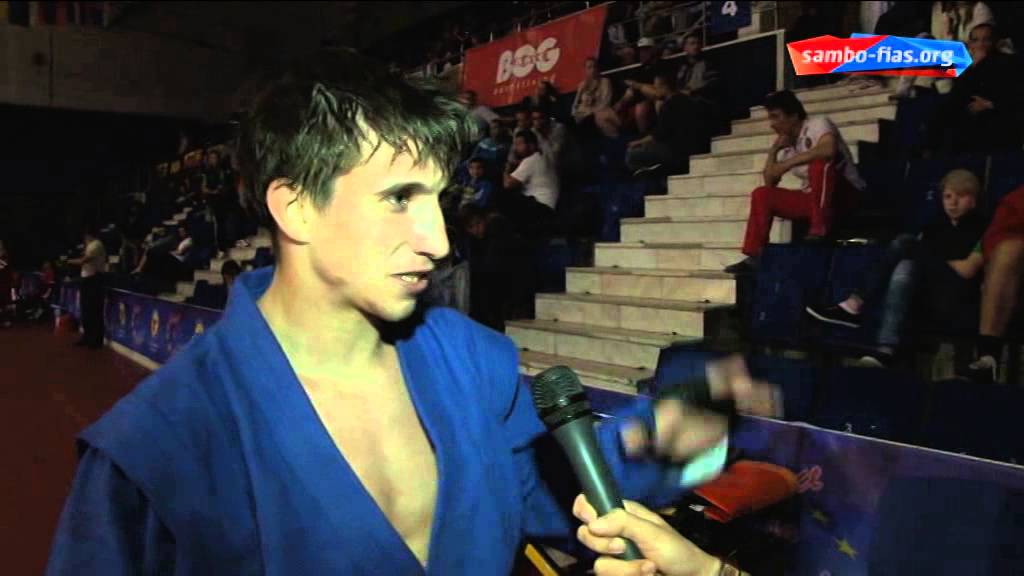 "First place is all that counts, because the champions are the only ones that everyone remembers," says Rumen Stoilov, President of the Bulgarian Sambo Federation. Mind you, he does immediately add: "I'm not saying second place is a bad result: I respect the competitors' effort. But they have to understand that a win is a win. I think the team is performing well, and that's to do with the fact that the national team has had some success. We've already achieved our gold medal target with two first places, and if we manage to win a third gold medal tomorrow it will be simply excellent."
After two days of competition the Bulgarian team has won two gold medals. It's interesting that this country's Sambo wrestlers had excellent chances of winning more such medals, but only one out of five Bulgarian finalists on day two, Martin Marinkov, made it to the winner's position on the podium. Interestingly, Romania's Gheorghe Ignat unwittingly helped him to do this. It was during his bout with the Romanian that Russia's Zelimkhan Umiyev injured his hand, as a result of which he was forced to drop out of the competition and was unable to appear in the final.
"In his first bout Zelimkhan met the Romanian Gheorghe Ignat, who weighs 130kg, while our man weighs 103kg," said Konakov. "It didn't work out: he hit him on the forehead with his left hand and broke his hand. Umiyev won his bout against the Ukrainian Roman Goncharuk for a place in the final with one hand by sheer determination, as you would expect from him. But then his hand swelled up, and we took the decision to pull him out of the final, to make sure there was no problem with his health. The team doctor's preliminary diagnosis is a fracture."
The preliminary diagnosis has been confirmed, but that wasn't the end of the Russian team's rough patch. Natalya Kazantseva was unable to finish her semi-final bout, and Islam Khashiyev failed to complete his bout for the bronze medal.
"Natalya has a very serious injury – a broken fibula with a partial dislocation and damage to the ankle ligaments. Islam has injured his lateral collateral ligament and damaged his medial meniscus, while in the combat Sambo event Zelimkhan damaged his left hand with a fracture," said Alexander Barinov, the Russian team's sports medicine doctor. "Approximately how long will it take them to recover? It's difficult to say yet, because the additional examinations have not been done. For Kazantseva I think it will be at least six months, and for Khashiyev, if he needs surgery, three or four months – we'll know for sure after the MRI scan. But for Umiyev I reckon it will be a month or two maximum.
Barinov admitted that he's been working with the team since 2009 and this is the first time he's seen such a run of bad luck. "Buy my colleagues and I have coped with it, and to a large extent that's thanks to the strong spirit of our competitors," said Barinov.
That strong spirit was displayed by Russia's Alexander Salikov, who turned down an operation in order to take part in the European combat Sambo championships in Bucharest. "I tore my meniscus on 7 March, my birthday," said Salikov. "But I declined to have an operation, so that I could take part in the European championships, the most important competition for me. I'm very pleased to have won – and not just for myself, because I devoted the win to my son Ilya, who is now 11 months old."
Nothing could stop Alice Schlesinger winning her latest Sambo title either. The Sambo wrestler from Israel made her way confidently all the way to the final and secured a characteristic victory in the deciding bout.
"Alice was women's world champion last year, so we came to Bucharest looking for nothing less than a gold medal," said the competitor's coach and husband Pavel Musin. "Now all her opponents make special preparations for a bout against the world champion and study her closely, and it's difficult for her to wrestle. Today's win is very important for Israel – Sambo has existed in the country since 1988, but it's only been actively developing in the last two years. This success by Alice, who was also the Universiade champion last year, will have a huge impact in helping to make Sambo more popular in the future."
The specialist emphasises that many people in the country "only found out recently that Sambo isn't a dance and is completely different to the Samba".
"By the way, a big support group came to these championships from Israel," the coach added. "And it's nice that Alice, who is the face of our sport in the country, has won again. We need to be much stronger than everyone else, and I'm always telling Alice: if you want to win, you have to throw clean."
One of Saturday's most intense bouts was the one between Georgia's David Loriashvili and Russia's Dmitry Minakov. In the deciding bout of the up to 100kg weight category the Georgian was initially losing to the Russian (0:1), but he managed to regain the initiative and maintain a winning advantage (5:4).
"The win in the final was very hard work. I wasn't expecting Dmitry Minakov to prove such a strong opponent," Loriashvili told journalists. "And I also thought he was going to wrestle in a completely different way, and so I didn't manage to contest the whole bout in the way I wanted to. Why am I not smiling? I'm not very pleased with myself. When I win the world championships, that's when I'll smile."
We'll tell you who fate smiles on today in words and pictures on the FIAS website. Follow the live coverage and news on the FIAS website.