"I still can't believe I'm a world champion. It will probably sink in tomorrow"
Personalities
10 October 2015
Sergei Grishin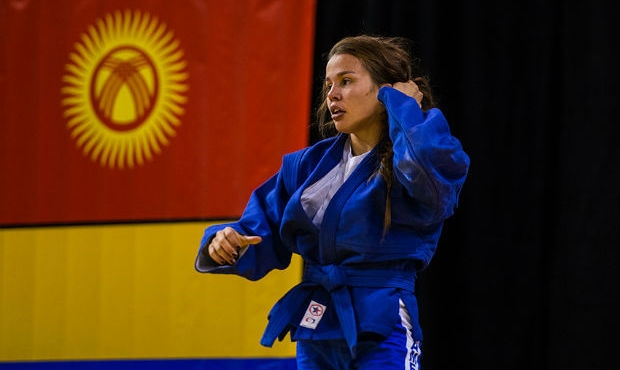 The emotions and feelings of participants in the 2015 World Sambo Championship among Youth and Juniors – in their comments for the FIAS website. Sponsor of the World Sambo Championship among youth and juniors is Russian Agricultural Bank.
Matluba Abdumulatova, a Sambo wrestler from Uzbekistan, was the winner in the weight category up to 44 kg among juniors. Immediately after the fight, overflowing with emotions, she happily thanked everyone who in one way or another helped her achieve success: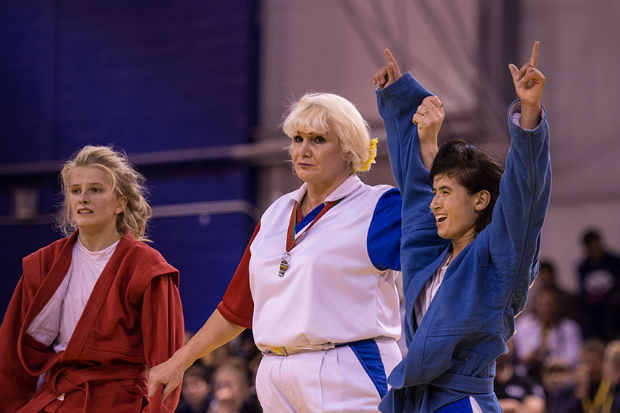 "Thanks to our president, who created all the conditions in Uzbekistan for us to practice Sambo. Many thanks to the parents and organizers of the competition. My father, mother and younger brother and sister are cheering for me at home. I think they already know that I won – they're closely watching the broadcast on the FIAS website. And, of course, many thanks to all my coaches. I'm so happy!"
Elbek Kuiyukov from Russia, winner of the gold medal in the weight category up to 48 kg among juniors, had barely caught his breath after the fight, but was able to analyze his match:
"The turning point in the match came when my opponent got a warning. I realized that nothing was impossible, and that I could win. The main thing is to show yourself and your fight. I became a European champion in the spring, and now I'm a world champion. Of course, it was harder to win in this competition. Now I'll be moving from junior to adult Sambo. Even if I'm not ready for it just yet, I will train for it in the near future."
Russian Alexander Fogolev, world champion in the weight category up to 60 kg among juniors, looked happy but still focused even after the end of the fight: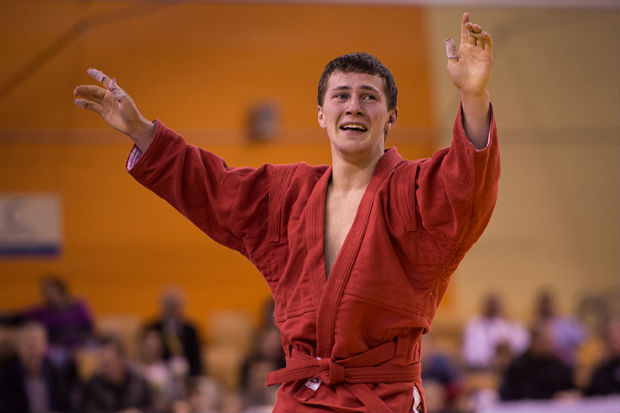 "The night before the competition I was trying to turn off all my nerves, calm down and sleep peacefully. Mainly because of this, I was able to perform well. The coach always knows how to find the right words, so I was in the right mood for the fights. He says: 'We've got to win! Go out and win!' And that turns me on."
Romanian Sambo wrestler Codrina Ionescu showed an incredible will to win. She was losing nearly all the way through the final in the weight category up to 56 kg among juniors, but managed to win in the last few seconds. There were tears in her eyes after she left the mat. The first question was about that.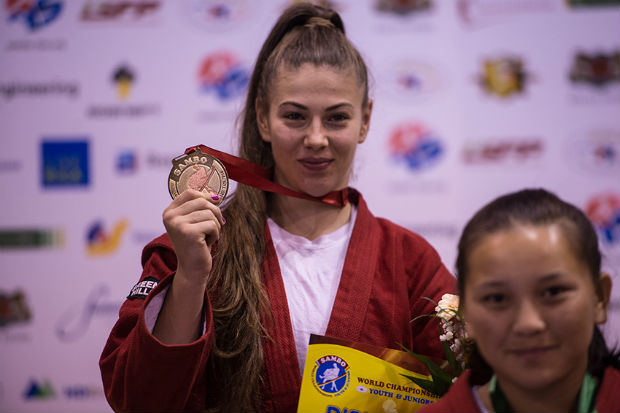 "They're tears of joy. I had a really tough fight, but in the end I managed to concentrate and to make the winning hold. I heard the coach's instructions, and that helped me win. I think that confidence in myself and a lot of training helped me win. We worked long and hard for this and finally managed to win. Today the coach set a goal for me to be one of the top three winners. I fought in the junior competitions, among participants two years older than me. Tomorrow I'll compete in my age group, among girls, and I'm hoping to win another gold medal. Tomorrow is my teammate Daniela Hondiu's wedding. Today's victory was a double gift:  for me and for her."
The tense final was in the weight category up to 62 kg among juniors. Azerbaijani Sambo wrestler Ilkin Baba-Zada managed to defeat his Georgian opponent, Giorgi Metreveli, in a tough match.  He shared his emotions after the fight: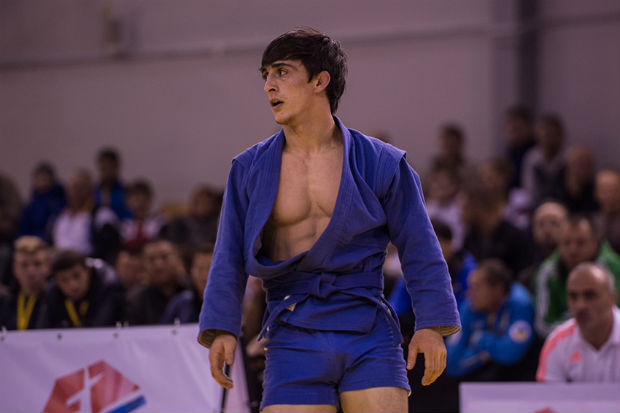 It was really hard to win. My first fight was with a Russian Sambo wrestler, and the final was with an opponent from Georgia. I'm happy I managed to win and become a world champion. This year, Sambo was part of the I European Games held in my country – in Baku. I think it's a big step for our sport toward joining the Olympic movement. I hope that in future I'll be able to compete in Sambo at the Olympics. Our team managed to win 4 silver medals in the European Games. That was a great success. We immediately saw a surge of interest in Sambo in Azerbaijan."
Tatiana Plotnikova (Russia), champion in the weight category up to 52 kg among girls, won with a clean throw in a decisive fight in the fastest final: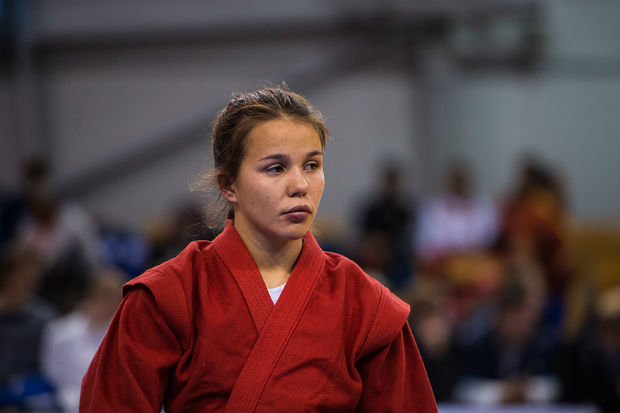 "The emotions of winning are beyond words. I still can't believe I'm a world champion. It will probably sink in tomorrow. Despite the quick final, I fought hard for the medal. I was really worried before each fight, but I still managed to cope and succeed. I've been moving toward this goal for a long time, and I'm glad I managed to achieve it.  I credit this win to my hard work: all that training was worth it. I want to thank everyone who is cheering for me. Friends in Russia are watching my performance online on the FIAS website and sending me photos of it. I'm very happy, I feel their support. I think you need to get worked up for each fight like it's your last. My main goal for the future is to compete at the Olympics. I'd like Sambo to become an Olympic sport."
Russian Anastasia Khomyachkova won decisively in the weight category up to 65 kg among girls. The athlete, who has quite a few titles to her credit, was the undisputed favorite in the World Championship in Latvia: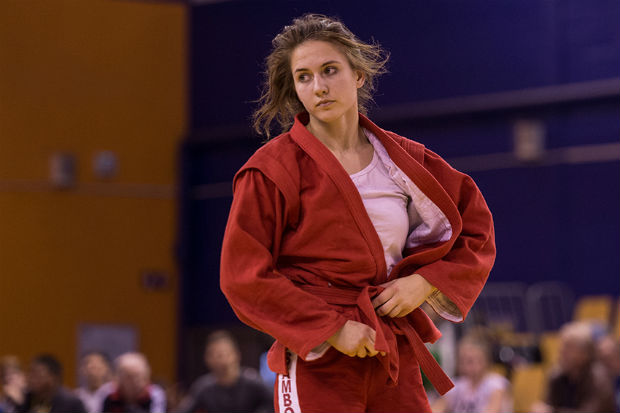 "This medal will go on the shelf with the rest of my awards and my older brother's awards. He's a Sambo wrestler like me, but he hasn't achieved as much internationally. He introduced me to Sambo: he came back from training and showed me some holds. I wanted to repeat them, to learn, and in the end I went to a Sambo school and became actively involved. I often trained in the gym with my brother, and he told me about the tricks. Now I'm training with the girls from the team."
Vladislav Gavrilov, head coach of the Russian Sambo team, praised the performance of his student Rustam Gerekov, champion in the weight category up to 82 kg among juniors: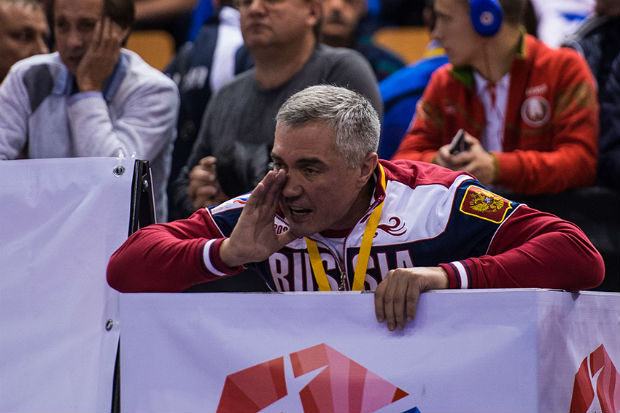 "During Rustam's fight, I didn't have to motivate him; I just had to tell him what to do at one point. Good thing is that in a difficult situation at the beginning of the fight he managed not to lose and didn't let his opponent perform a painful hold only thanks to his temper. The rest was brilliant, and went as it should. Rustam had surgery on his knee in May, and it was hard for him to recover, but he trained properly and competed successfully. Last year he was third at the European Championship, and now he's first in the world. It's a good trend!"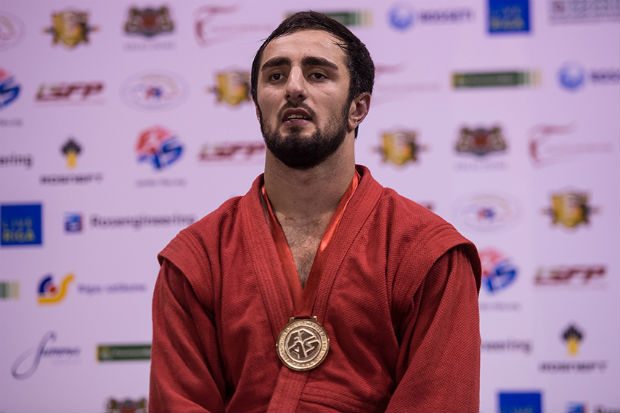 [Photogallery] World Sambo Championship among Youth and Juniors. Day 1 — finals