Jubilee SAMBO Carnival in Buenos Aires
10 December 2013
Sergei Grishin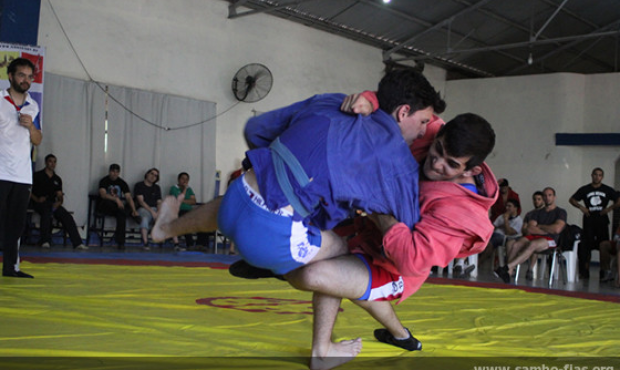 The National Open SAMBO Tournament in Argentina completed a series of local events dedicated to the 75th anniversary of the sport. More than 60 athletes participated in these competitions, thus having proved that the interest in Sports and Combat SAMBO in the region is constantly growing. University SAMBO training course, carried out in Buenos Aires a little earlier, also speaks for the fact that not only the number of athletes is growing, but the quality of their training as well. All its members haven't just completed the training, but also passed final exams on theoretical materials. The subsequent National SAMBO Tournament became a practical test for them.
– You don't believe your eyes when you see such development. Just a few years ago they didn't know anything about SAMBO in Argentina. It was absolutely impossible to find people who mastered SAMBO technique and holds, who knew rules of the sport. So during 2008-2009 a stable group of practitioners was formed, – compares notes Dante Bayes, the Argentine SAMBO athlete. – Today everything has extremely changed and the last tournament serves to prove it.
Multifaceted fighting, participants with different tactics, characteristics, technique – the audience gathered saw all these things at the Atlanta Sports Club in Buenos Aires on December 7. The competitions began at 9 a.m. and lasted until 15:00. Presence of children of Eduardo Flores Allende, Vice President of the Argentine SAMBO Association – Juan Pablo and Juan Martin – added emotions and colors. They demonstrated that everyone can train no matter what doctors and diagnoses say. They proved that SAMBO develops in family atmosphere.
Also these days the university SAMBO training course completed, which was held in conjunction with teachers from Cuba and Venezuela, as well as with the support of the Southern University of Venezuela. During two days before the opening of the Argentine National SAMBO Tournament, the participants met to pass an exam on theoretical materials. They managed to test their knowledge in subjects such as biological basis, psychology and methodology of SAMBO. Then repetition and practical assessment of the most outstanding techniques took place. SAMBO fans from Paraguay, Chile, Uruguay, and, of course, from different cities of Argentina became the course as well as the open tournament participants.
– The Argentine SAMBO Association headed by Juan Pablo Melo, works a lot and hard for SAMBO development, – continues Dante Bayes. – SAMBO growth and development today is a tangible reality already, but we are not going to be satisfied with what has already been achieved. More sport for more people! More projects for the development of sport in economically disadvantaged regions! In the name of SAMBO! SAMBO for everyone!