Zagreb: Preparation to the European Championship and the road map for 4 years
Official
15 June 2014
Sergei Grishin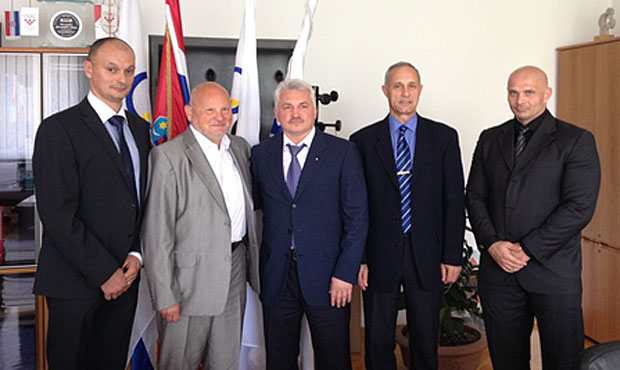 The four-year Sambo development plan will be worked out in Croatia. The corresponding agreement was reached during the meeting of the President of the European Sambo Federation Sergey Eliseev, the President of the Croatian Sambo Federation Zeljko Banic and its Secretary General Jadranko Cacic with the President of the Croatian Olympic Committee Zlatko Mateša and the Secretary General of the National Olympic Committee Josip Čop. Besides, the issues of preparation to the European Sambo Championship which will take place in May 2015 in Zagreb were addressed at the meeting.
The official Sambo competition of the international level will take place in Croatia for the first time. The European Sambo Federation has approved the application of the national federation for hosting the main continental tournament and ranked high the work on promoting Sambo in the region. This is a significant success for Croatian Sambo athletes who made first claim about themselves at the international Sambo tournament in 2010.
The President of the Croatian Olympic Committee has approved the joint initiative of the European Sambo Federation and the Croatian Sambo Federation on promoting Sambo. Besides, the parties have reached an agreement on working out the four-year plan on holding international tournaments and events in Croatia in order to train Sambo coaches and judges. Today there are seven Sambo clubs in the country. The Croatian Sambo Federation has been the temporary member of the National Olympic Committee since 2010.
As of Croatia's preparation for the tournament which will start next year, today the future place of accommodation of sports delegations is known, as well as the sports complex where the competitions will take place. It is noteworthy that these buildings are situated in approximately 500 meters away from each other. The comfortable four-star Panorama hotel is ready to accommodate up to 700 participants and to provide its conference hall for holding the congress of the European Sambo Federation. The Sports Complex House of Sports, in its turn, can receive 3000 spectators who will have the opportunity to watch high level Sambo. The same opportunity, but an interactive one, will be provided to Zagreb citizens and visitors who in the days of holding the competitions will be in the central square of the city and recreation areas. For them a webcast of duels on plasma screens will be organized.
"Zagreb enjoys a very convenient infrastructure for holding competitions, and we can see that the participants of the European championship will have all the necessary conditions provided for them," Sergey Eliseev noted. "All buildings are situated in the nearest vicinity of each other; there is no need to use transport. There is no doubt that all the guests of the tournament will feel comfortable."