Cameroonian Nanbudo Federation (National Sambo League)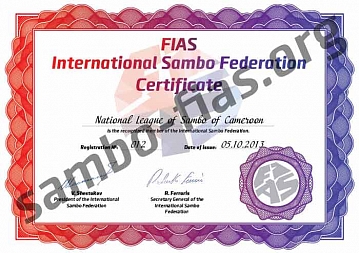 Sambo has appeared in Cameroon thanks to Mr. Jean-Paul MBOUELLE in 1996, and the organization that ran the Sambo in those days , was Sambo Cameroon Sports Association.
Sambo begins to develop in Yaounde and then gradually moving to the regions. At the same time it should be noted that Sambo Cameroon Sports Association operates within Cameroon Federation of Judo and Nanbudo and associated disciplines, and after the split of this federation Sambo Cameroon Sports Association decides to work with the Cameroon Nanbudo Federation. 
Thus, after the death of Mr. Jean-Paul MBOUELLE on 14 February 2011, the Cameroon National Sambo League starts functioning the same year after the visit of the President of the African Sambo Confederation, Mr. DALIL SKALLI.
Today the Cameroon National Sambo League is led by people actively practicing Sambo, namely: 
Mr. Belmond Luc ALOG
Mr. Francois NAMA 
all are students of the deceased Mr.Jean-Paul MBOUELLE.
Principal functionaries
MBASSI François : Secretary General of the African Sambo Confederation
ALOG Belmond Luc : International arbiter (FIAS)
Most titled and known athletes
NAMA François 
EKOBENA ABAH Richard Philippe 
MVOGO OLINGA Cédric 
Significant events
Sport Accord Combat Games 2010 (Beijing, China)
Sambo International Grand Prix 2011 (Casablanca, Morocco)
International Referees seminar 2012 (Casablanca, Morocco) with 2 Cameroonian referees licensed as a result
International coaches African seminar 2012 (Casablanca, Morocco)
Sambo World Championship 2012 (Minsk, Belarus)
African Sambo Championship 2013 (Casablanca, Morocco)
Sambo World Championship 2013 (St Petersburg, Russia)
Sambo World Cup Stage 2013 (Casablanca, Morocco)