Croatian Sambo Federation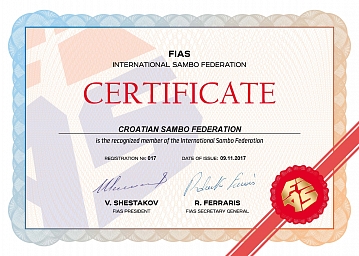 Croatian Sambo Federation (CSF) was officially established in February 2010. Federation was formed by 4 officially registered Sambo clubs: Crows, Predator, Valhalla, Zagreb, which are practicing and promoting Sambo in Croatia until today.
The first initiative to introduce Sambo to Croatia and create Sambo federation took Ultimate Fight Club Crows situated in Zagreb and its founder Željko Banić. Among these first few enthusiasts, aside from CSF President Željko Banić, there were few more people: CSF Vice President Marko Rukavina and Secretary General Jadranko Čačić who are two more founder members of the Federation. Experienced in other similar sports such as wrestling, judo, kickboxing and ultimate fighting, these people saw great opportunity in bringing Sambo to their country.
Inviting foreign Sambo experts to Croatia and attending seminars in other countries is how first transition to the new sport was made. With official recognition and help of FIAS, CSF was formed in the beginning of 2010. Short time after CSF was officially established the first Croatian National Sambo Team was formed and sent to compete in Moscow, in March 2010 on an International tournament of "A" category - "Memorial A. Kharlampiev". Although the team consisted of only 6 athletes, Croatia managed to take 4th place in Combat Sambo discipline in category -90 kg.
A year later in May 2011 a team of only 3 athletes was sent to compete on European Championship in Sofia. Here Croatia also took 4th place in Combat Sambo discipline in category -74kg. In November 2011 Croatia also participated on XXXIV World Championship for adults in Vilnius.
In December official FIAS Sambo demonstrators were invited to Croatia where they held seminars and trainings for athletes, coaches and special police unit. In 2011 Croatia became an affiliated member of FIAS and was no longer just as candidate but as a full member.
Today Sambo in Croatia is practiced and promoted by 7 officially registered clubs. Croatian Olympic Committee recognizes Sambo officially. Although Federation is quiet young with only 90 active Sambo practitioners CSF has plans to promote and develop Sambo in Croatia and its region.