Georgian National Federation of Sambo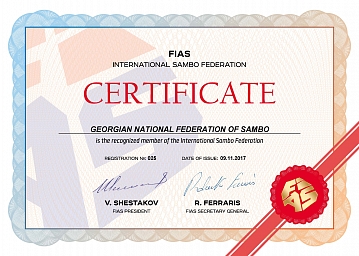 Independent Sambo Federation of Georgia was established on May 24th, 1991. 

The Presidents of the National Sambo Federation of Georgia were: Nodar Ekvtimishvili (1991–2004), Omar Iadze (2004–2005), Badri Bitsadze (2005–2007), Giorgi Goguadze (2007–2009), Levan Tedeashvili (2009–2011), Teimuraz Giorgadze (2011–2012). 
Since 2012 the President of Federation has been Soso Liparteliani. Tbilisi has seen the first Sambo sport in 1933, in Technical Secondary School of Physical Culture. The first coach was Ilo Svaneli (Tomashvili). 

In 1939 the First USSR Championship was held in Leningrad the first champion representing Georgia was Konstantin Koberidze in the weight category - 87 kg. 

In Autumn 1957 there was the first international competition between teams of Georgia and  Hungary where Georgian team won.

At the first World Championship in Teheran (Iran) the champions became Genadi Giorgadze (- 48 kg) and Levan Tedeashvili (- 90 kg). 

The most titled Sambo athlete is Djondo Muzashvili. He became a three times World Champion in 1995, 1996, 1997. Jondo Muzashvili was also European champion in 1994, and he was a three times World Champion and once European Champion.