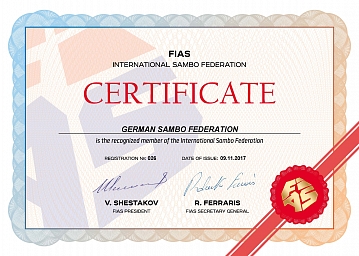 German Sambo Federation was created in 2000.
Since 2001 Federation participates in all the European and World championships. For example, in 2001 the first German team takes part in the World Championships in Krasnoyarsk.
In May 2002 the Open Championship is held in Germany. X German Championship was another step towards the development and integration of German Sambo Federation into FIAS family. X German championship in sport and combat sambo was held in Itzehoe, the birthplace of Sambo in Germany, and the place where the first national championship in 2002 was held. The X championship in Germany was attended by 200 athletes of 10 German regions and Sambo Federations that are members of the German Sambo Federation.
Since 2003 closed championships (about 100 or more participants) are held. In 2003 after two years of struggle Federation is registered as a separate type of martial arts in Germany.
A special role in the development and formation of Sambo was played by a sport society Gut Hale Itzehoe (today Itzehoe Sportsclub) which was the first to open a Sambo club and which is still lead by the Federation President Josef Bart.
Today Sambo is a special way to educate a person where the sport component of particular importance is in a close cooperation with modern effective integration of young people in public life and management system, leading to success, to upbringing an active life position. It was and remains the goal and motivation of activities in Sambo development in Germany.
German Sambo Federation is contacting with the National Olympic Committee of Germany with a view to join the members of the NOC and to the further productively develop Sambo wrestling.
Achievements: Winners of European and world championships.
SportsAccord Champion and silver medal at the World Championships - Stefan Janos.
Silver medal at the World Championships - Rasim Lemberansky.