National Ukrainian Sambo Federation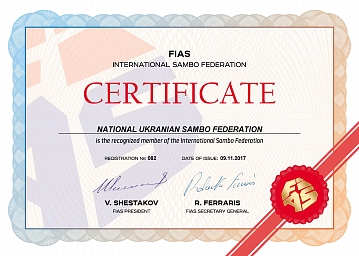 In Ukraine, Sambo has been cultivated since 1934, when Roman Shkolnikov, having graduated from the Russian State University of Physical Education, Sports, Youth, and Tourism in Moscow, where he studied with the eminent teacher, Vasili Oshchepkov, was sent to work in the Department of Defence and Attack at the Institute of Physical Culture in Kharkov, where he also taught skiing.
Despite his other talents, Shkolnikov remained loyal to the art of Sambo. Through Shkolnikov's initiative, this type of martial arts became included in the curriculum of all courses and he even managed to open a Sambo department at the Coach School. Graduates of both this School and Institute who had specialised in Sambo went to work across the country as interns, organising local Sambo sections in Ukraine. Notably, they were guided by one important principle from Vasili Oshchepkov: those who have followers should not participate in competitions; but rather, entirely focus on coaching and teaching.  

Naturally, Roman Schkolnikov was true to the principles of his outstanding teacher and so, no matter how much he wanted to step out on to the competition mat, he instead gave all of his experience, time and effort to his disciples. It is difficult to overestimate the fruits of his years of selfless work.  

On 28–29 November 1938, the city of Baku hosted teams from five cities to compete in "Freestyle Wrestling" (Sambo) (essentially, the championship of the USSR: competing cities included Moscow, Kiev, Leningrad, Saratov and Baku). There, the audience warmly welcomed the USSR heavyweight champion in shot put and rod, A. Kanaki (from Kiev) who won the gold medal. B. Tsyupa and V. Zarubin won bronze medals in the light and medium weight categories.

In May 1939, a traditional meeting of six cities was held to compete in "Freestyle Wrestling". Teams from Moscow, Leningrad, Kiev, Saratov, Rostov-on-Don and Ashgabat attended. Gold in the welterweight category went to V. Karminov (from Kiev), who had mastered the distinctive qualities of a wrestler, and in the heavyweight division I. Stekel (from Kiev) came out the winner. The Kiev team ended up taking third place.

The 1939 USSR "Freestyle Wrestling" Champhionship was held on 15–18 November in Leningrad. Seventy athletes from Leningrad, Moscow, Kiev, Kharkov, Dnepropetrovsk, Zaporozhye and many other cities attended the competition. Konstantin Nakelsky from Kharkov became the USSR champion wrestler. Ukraine's team was represented by the winners of a national championship held 15 days prior to the USSR Championship. The competition hosted all eight weight categories and was executed round robin-style. By this time, this style of wrestling had gained practical value and had become widespread among young people.

The 1940 USSR Championship took place in Moscow from 28 November to 1 December and was attended by 60 athletes from 11 cities. S. Bayev (from Kiev) was crowned the champion. At the start of the Great Patriotic war Roman Shkolnikov went to the front. From 1941 to 1946 All-Union Competitions were not held. Returning after the war to Kharkov IFC, Shkolnikov not only gave lectures and trained Sambo wrestlers, but also – in spite of his pain – fought on the mat himself and devoted time to cross-country skiing. Through hard training, he managed to restore motor functions to his wounded leg and in time, gained normal flexion and extension. Roman Shkolnikov's name soon reappeared in the records of Ukraine's National competition and he won the championship.

In 1991, the collapse of the USSR resulted in the formation of autonomous Sambo Federations in all of the former republics, and also led to a split in the International Federation of FIAS. Two alternative federations were formed – FIAS and FMS – which began to hold their own world and European championships.

In 1992, the FIAS European Championship was held in Moscow on 4–7 June. Six countries competed and the Russian team won first place. Meanwhile, in Kiev, the FMS (World Sambo Federation) European championship was held and attended by 21 countries. The Ukrainian national team won first place.

The 1993 FIAS World Championship was held in Kstovo, Russia on 9–15 November. There, Tomoyuki Harimaya, from Japan, was elected the new FIAS President by the FIAS Unification Congress.

Since 1994, the European and World Championships have been held by FIAS. To date, Ukraine's Sambo fighters have won over 1500 medals. Fifty-two Ukrainian Sambo wrestlers have been crowned champions of Europe, 44 have been crowned world champions, and 35 have been crowned winners of the World Cup.

These achievements have been made possible due to the consistent involvement of more than 10,000 fans of this style of martial arts, as well as the organisation of 26 Sambo Federations in Crimea, Kiev and Sevastopol. Likewise, the organisation of 50 annual provincial, regional, national and international championships, as well as active participation in the world Championships, European Championships and World Cups – where Ukraine has a leading position – have contributed to Ukraine's considerable success in the art of Sambo.

In 2011 the national team of Ukraine won 66 different medals: 9 gold, 17 silver and 40 bronze. Currently, over 21 thousand Ukrainian Sambo wrestlers are ranked, including hundreds of masters of sports, 42 international masters of sport, 25 honoured masters, 70 honoured coaches of Ukraine.

A significant contribution to the development and promotion of Sambo has been made by specialised athletic schools in Kiev, Lvov, Kharkov, Donetsk, Dnepropetrovsk, Sevastopol, Krivoi Rog, Kerch and other cities and regions of the country. "Not one day without Sambo!", "Sambo – to village kids", "Sambo among children's sports and patriotic clubs by domicile", "Young sambo wrestler" – these have become the slogans of many athletic schools. Constant interviews, press conferences, publications and media reports (print, radio and television) have created the necessary attention and approval needed to guarantee the flourishing of Sambo.

The Sambo Federation of Ukraine (FSU) is devoted to developing both physical and harmonious character. Among their many activities and projects, the FSU board wishes to recognise outstanding figures who have devoted their lives to Sambo and to their country, by giving their names to numerous Sambo tournaments.