Dmitry Maksimov's Argentine blog. Day 1
Dmitry Maksimov's Argentine blog. Day 1
Argentine blog
30 March 2016
Sergei Grishin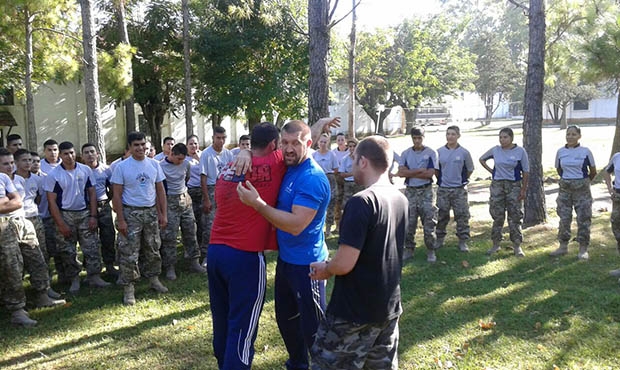 FIAS's Sport Director Dmitry Maksimov went to Argentina to hold a series of seminars for local sambists and those who make their first steps towards sambo. About the Argentines' immersion in sambo, Dmitry tells us in his diary on the FIAS's website.
March 29 март – day 1
The main theme of the lesson was the techniques of protection against an unarmed opponent (techniques of applied sambo without weapons). The novices were really delighted with the technique of protection against seizure of clothing that experienced sambists consider something quite elementary. However, after one and a half hours of working together it became clear that sambo, even applied one, is an absolutely natural state of the organism, which can be compared to other unconditioned protective reflexes.
For example, the rapid breathing reflex because of the excess of the carbon dioxide in the blood or the reflex of withdrawal of hands from hot objects. After all, a reflex is an innate reaction to the impact of certain external or internal environment, aimed at the protection and preservation of life. Is it not where the sambo philosophy lies: the ability to protect your health and life? The only and main thing that distinguishes sambo from other unconditioned reflexes is that sambo is aimed at the protection and preservation of health and life of not one but many people...
In the afternoon, a meeting was scheduled with representatives of the National Olympic Committee of Argentina. First of all the doors of the Museum of the Argentine Olympic history were kindly opened in front of us by its manager Martin Rodriguez. It's symbolic that the excursion into the history, to the origins of the Olympic Movement, its dawn and prosperity is linked to our mission of promoting sambo into the Olympic program...
Later, we were joined by the Advisor to the President of the NOC of Argentina Raul Sabbatini, with whom we discussed the development of sambo in the country at the moment and in the future. So ended the first day. About what happens next, read the "Argentine diary" on the FIAS's website.
Sincerely yours Dmitry Maksimov