Artem Osipenko is the best Russian sambo athlete in 2014
Artem Osipenko is the best Russian sambo athlete in 2014
Did you see it?
4 February 2015
Sergei Grishin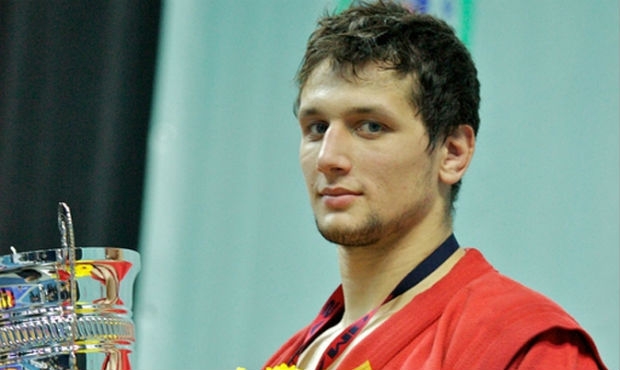 At the end of 2014 three-time world champion Artem Osipenko was recognized by the All-Russian Sambo Federation as the best sambo athlete. Last year at the Global forum the leader of the Russian team in the absolute weight category, Artem, not just won the third world champion title, but won the "gold" medal for the team needed for its victory.
In his interview to All-Russian Sambo Federation press office he told about his victories, trainings, studies in the Russian Presidential Academy and about his interest in hunting. "Any sportsman should be a multiple personality," the champion is sure. The sambo athlete also shared his views on the renewed sambo rules.
"I like these changes in the rules. In fact, as for the win by technical superiority, 12 points are rather serious lead in the score. It is very difficult to achieve this. Your opponent shall set himself up after the first fall and try to win. And according to the new rules it is allowed to make a throw, hold and become a winner. I believe these changes are necessary. But we'll see how this will work, "mat will show," said Artem Osipenko.
The sambo athlete is now actively preparing for the Russian Championship and for the Kharlampiyev Memorial Tournament World Cup. Speaking in a more global way, Artem plans to become a four-time world champion. "I shall confirm the title to prove that my victory in the absolute weight category at the World Championship was not accidental," says the athlete. 
FIAS website gives an opportunity to recall in memory how Artem Osipenko became the three-time world champion in Japan. Watch the final combat of the Russian athlete against sambo athlete from Mongolia, Batmunkh Perenlii.
Video of other World Sambo Championship Finals in Japan you can find on the FIAS video channel on YouTube:
http://www.youtube.com/playlist?list=PLkng14WT2QfwSCrU-J3W0UNomA2E0fZu4