Day 2. WORKOUTS, SOUVENIRS, BICYCLES
Day 2. WORKOUTS, SOUVENIRS, BICYCLES
Daniela at European Games
10 June 2015
Sergei Grishin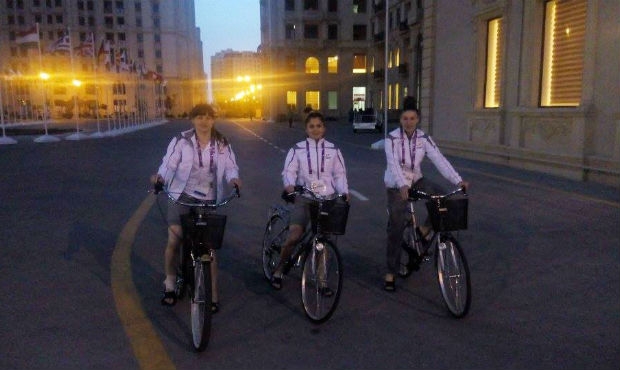 So today, on the second day of our stay in Baku, we got started with our workouts. I was amazed by so big and beautiful training hall, when I came in the morning. There are 14 mats in one hall, so it's very comfortable to have plenty of space for our workouts. There are ropes and special elastic resistance bands here; also there are many gyms around, where you can have weight trainings. It's nice to use the top class sauna after a workout.  
The wrestlers had trainings together with us on the next mats and these guys were very friendly! As far as I know, they will compete on the same arena as Sambo wrestlers (Heydar Aliyev Arena). But wrestlers will be the first who try out that hall. It would be very interesting to watch their contests, though I'm sure that everything will be performed to the highest standards.
By the way, we have already exchanged souvenirs with some athletes.  My first gifts are from Germany, so my collection has been increased. And I still don't have any souvenirs from Azerbaijan. But I'll try to get something soon.
Today, after evening workout, I will go for a walk with my girls.  Yesterday we were discovering the city. We wanted to see as much as was possible, so we took bicycles in our Olympic Village and went riding down the streets of Baku. We could see quite a lot and today we are going to explore some sights in details. The Azerbaijanis are very friendly people and all of them want to help us in any situation. It's very nice.
You can find more photos and new stories in the next issue of my diary.
 Yours, Daniela.