Day 9. Making calls home, the girls on our team, as well as Nar and Jeiran
Day 9. Making calls home, the girls on our team, as well as Nar and Jeiran
Daniela at European Games
18 June 2015
Sergei Grishin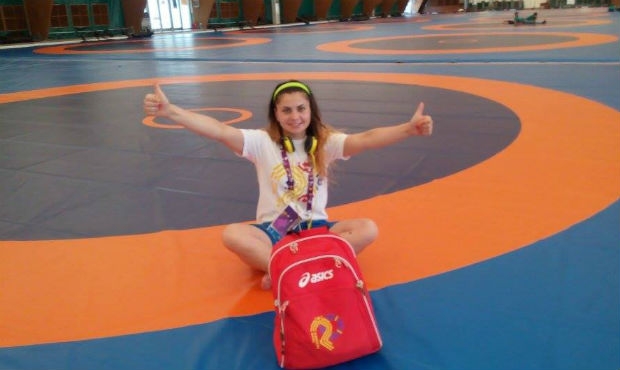 My day today was quite laid-back, and devoted to leisure. Sometimes you have to just kick back and take a complete break. Of course, that doesn't apply to our training sessions – our whole team does them together very intensively, and we don't forget our main reason for coming to the Games – we've come to win.
However, we can chill out in the breaks, and take the chance for a phone call home, as I did.  Every day I tell them what I've been up to, where I've been, who I've been chatting to. They're very happy for me, and take the chance to offer me their support. My family keep saying that they'd love to be with me again at the competitions, as they were at the European Sambo Championship in Zagreb where I won my 'gold'. However, this time none of them are able to come.
So instead of my family, the girls on our team give me support – and I do the same for them in turn. In fact today I'd like to write a little about our girls.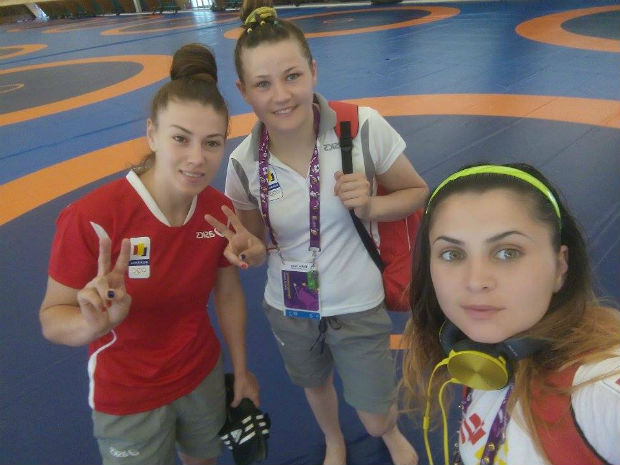 Codrina Ionescu (52 kg) is our smallest Sambo wrestler. And I mean both in terms of age and weight. She's an extremely outgoing girl, as well as amazingly talented athlete. Not long ago she was still competing at the Youth Championship, and now she's made it onto the national squad. And we all know that if there's one person on the team who's an expert on music, then it's Codrina.
Natalia Budeanu (64 kg) is maybe our most serious-minded teammate. But in spite of that she's still our best friend, and I know that I can always count on her. Natalia is the kind of competitor who never stands still, and is always trying to achieve her goals. She's like that off the mat too – she can be very straight up at times!  But it's an attitude we love and respect.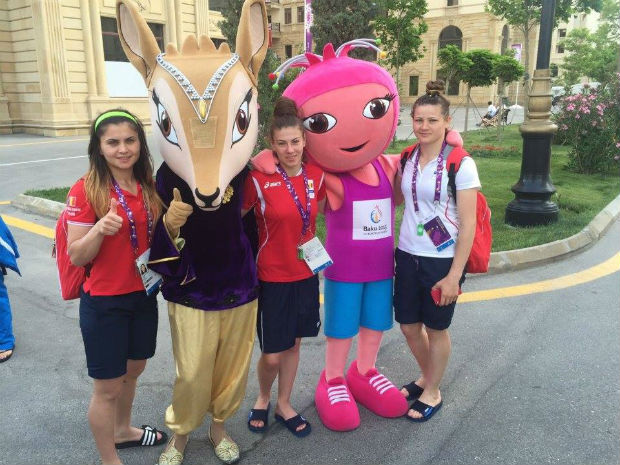 We were all photographed together with the mascots of the European Games. Volunteers told me that the gazelle called Jeiran is the Cultural Ambassador of the Games. She's intended to give visitors an impression of Azerbaijan's rich heritage. Jeiran is the symbol of natural beauty, elegance and purity – and gazelles are a protected species in Azerbaijan.
There's also a pomegranate called Nar – a sun-loving fruit that grows in Goychay. Nar symbolizes the unity of Azerbaijani folklore, and is widely used as a brand symbol of the Baku-2015 all over the city. I had this fruit in mind during the Opening Ceremony of the Games, when a huge number of red balloons came out from a gigantic image of a pomegranate, suspended over the stadium. And all these balloons flew off like fireworks all around.
Well, that's all for today. In my next report I'll be telling you more about Baku-2015. To close, here's a photo of our trainers and statue girl.