Just before the European Championship
Just before the European Championship
Sambo in Croatia
14 May 2014
Sergei Grishin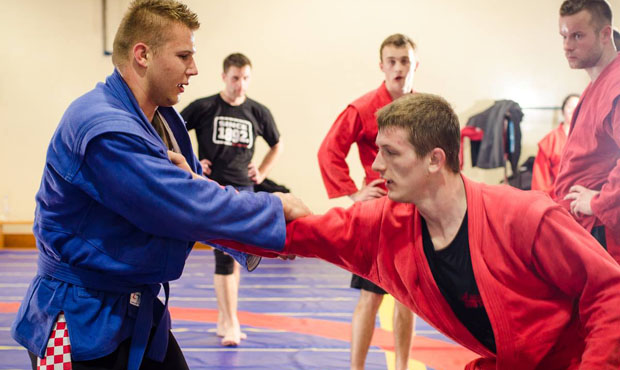 By Jagoda Radojcic
There are a number of martial arts that are practiced around the world , but more recently the Russian Sambo in Croatia captures more and more supporters.
– Sambo is practiced today in Croatia by several hundreds of citizens, of whom one-fifth of women who want to learn through the sport a reliable and secure self-defense skills. Soon we will go in schools, acquainting students with Sambo, whose promotion around the world was contributed by a number of teachers who left former USSR, practicing and learning the secret art born in Russia, – says Zeljko Banic, President of Croatian Sambo Federation.
Sambo is now the most widespread in Russia, as well as other countries of the former USSR, but the Croatian boys and girls are increasingly getting involved in this martial art. Among them, one of the best Sambo athletes is Dejan Gunjavic, 23 years old.
– I've learned about Sambo a couple of years ago, and since then I've been training it regularly. I've never had a fight on the street, or needed that kind of self-defense, but Sambo provides great pleasure in this kind of sports, – comments Dejan Gunjavic who uses every free moment to escape to the gym and work with a trainer.
All the more reason, because in just few days he'll be defending the colors of Croatia at the European Championships in Romania, where he hopes for quality performance and good results. Everyday training should be an excellent basis for the international success of this young Sambo athlete.
Dejan Gunjavic trains Sambo four years, almost since the beginning of the Croatian Sambo federation, before that he trained MMA, but he likes Sambo more, and despite good results in MMA he wants to be focused only on Sambo. In his free time he is running and plays football. When he has a day off at work, he practices Sambo twice a day. He appeared on several Sambo competitions – twice in Moscow, St. Petersburg, Lithuania, Bulgaria, Italy, etc.
Athletic career and plans he leaves to coach Zeljko Banic in who he has absolute confidence. He spends his free time with a girlfriend, and is currently making intensive preparations for the European Championships in Bucharest. His favorite fighter is Fedor Emilianenko, the best-known sambo fighter.
Dejan says: "All sportsmen in Croatian Sambo clubs are taught mutual tolerance, understanding and respect. This is a skill that trains young people the challenges of life, but also the quality answer to all problems. Sambo acquire physical preparedness, but also composure, concentration, restraint, which can be practiced through regular recreation or competition".
Dejan Gunjavic is just one of the perspective team members, that with their patience toward beginners, respect for the coach and the club, best promote the values that Sambo represents.