100 days till the start of the Universiade in Kazan and 10 days for sambists to get in there
Competitions
28 March 2013
Sergei Grishin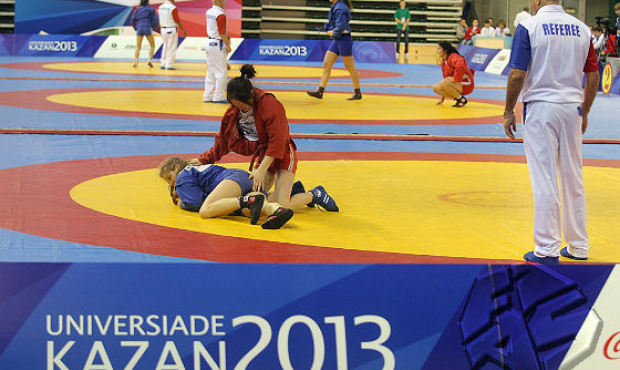 100 days are left till the beginning of the opening ceremony of the XXVII World Summer Universiade 2013 in Kazan. Starting from 6 July all the Planet will be watching the major competitions among students of quadrennium where thousands of young sportsmen from all over the world will participate. SAMBO, among the additional types of sport, has been included in the Universiade programme for the first time. Sambists of about 80 countries where this combat has been developing have got an opportunity to get their names mentioned and win medals at this Universiade where SAMBO is making its debut. However, the National Federations should hurry up not to miss such a unique chance.
The point is that 6 April is the deadline for applying for participation in the Kazan Universiade. In other words 10 days are left for National SAMBO Federations to accredit national teams of their countries for the Student Games-2013. It should be also reminded that applications are accepted by the International University Sports Federation (FISU). Therefore National SAMBO Federations should closely cooperate with their National Federations of University Sports as regards this question.
– As a FISU official delegate and Executive Director of FIAS all in one, I would like to notice that only the International Federation of University Sports arranges and carries out the Universiade. In its turn, the International SAMBO Federation is ready to render any assistance to the National SAMBO Federations including informational and financial support. However, every SAMBO Federation itself in close cooperation with its National Federation of University Sport should go through the process of filing applications and registering sambists for the Student Games-2013, says Sergey Tabakov.
As previously reported on the FIAS website 28 countries applied and were accepted for participation at SAMBO competitions as on 22 March. This information was announces by Sergey Tabakov at the meeting of the FIAS Executive Committee in March. The present Presidents of the Continental Federations, i.e. Juan-Pablo Melo, Sergey Yeliseev and Dalil Skalli, agreed to intensify this work at the continental level. It means that the number of countries participating in SAMBO tournaments at the Universiade-2013 should increase.
There are 3 days for the SAMBO competitions in the schedule of the University Games-2013 sports programme. The SAMBO tournament will be held 14-16 July at the Tatneft Arena Sports Palace; there will be established the strongest sportsmen in 18 weight categories, 9 for men and 9 for women. It should be recalled that the SAMBO World Cup among students, testing competition of the Universiade, was held last December in Kazan. Specialists and fans all together stated very high organisational level of the tournament following its results. There were certainly small imperfects but the organisers have enough time left to remove them.
Aleksandr Solomakhin
www.sambo.sport