Abdul Rahid Seyni: "This medal means a lot, if not all to me"
Personalities
29 May 2016
Sergei Grishin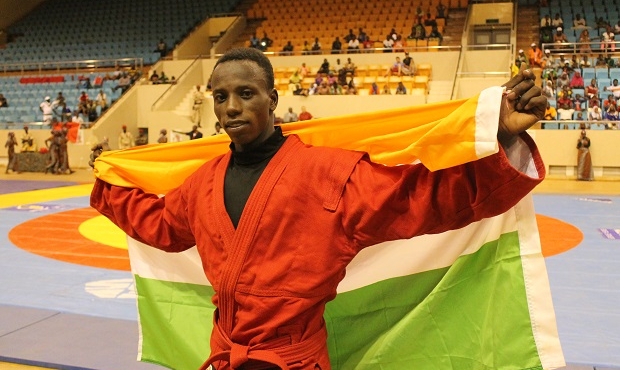 The first ever for Niger gold medal of the African Sambo Championship was won by Abdul Rahid Seyni. At a tournament in Niamey he became the winner in the weight category of up to 57 kg in sport sambo. In an interview to the FIAS's site Abdul Rahid spoke about his motivation after last year's defeat, the support of his fans from the stands and the place where his gold award will be stored.
"This medal means a lot, if not all to me. This is the first medal of such level for Niger and for me, too, of course - said Abdul Rahid Seyni. – This is the second time I participated in the African Sambo Championship. My debut took place last year in Casablanca. Then I unfortunately lost in the first fight. I am extremely happy that today I've been able to take revenge!"
At the stands of the Palace of Sports "July 29", where from 28 to 29 of May the African Sambo Championship is taking place, have gathered a large number of fans who selflessly and incredibly loudly rooted for their compatriot. Seyni confirmed that even walls help at home.
"I think that on my way to the gold I got a lot of help: my friends and family were there for me, the coaches gave me important tips, the fans actively supported me during the performance. I want to thank the spectators in the stands. Their support cheered me up and pushed me forward very much. If this support hadn't been there, it would have been much more difficult to win this gold,"- said the athlete.
Abdul Rahid also noted that an important factor for his success was his last year's defeat.
"This spurred me very much, I had a very strong motivation to take revenge, - admitted the champion of Africa. - Now I've got the first medal of this quality in sambo, and I came up with a place for it at home. I'll hang it directly over my bed to look at it when I fall asleep and when I wake up. Hopefully, in the future a world championship medal will appear next to it".