Ali Murtaz: "I've Earned The First Ever Medal For Bahrain At The Asian SAMBO Championships"
Personalities
14 May 2018
Aleksandr Solomahin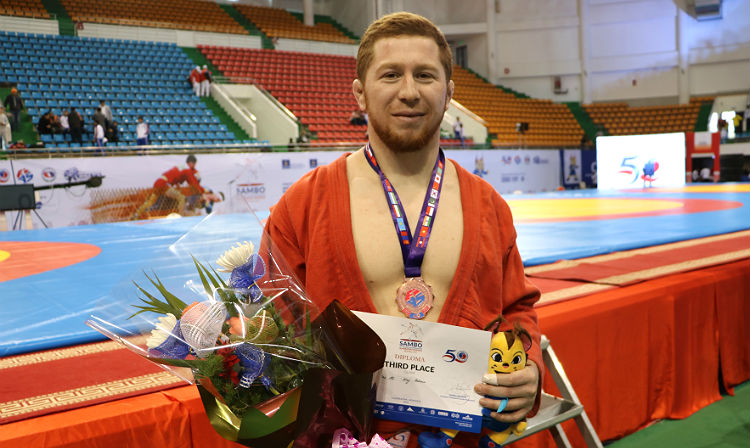 The bronze winner of the Asian SAMBO Championships Ali Murtaz represented Bahrain at the tournament. This country's team took part in the continental SAMBO championships for the first time, and this bronze in the under 90 kg weight category in sport SAMBO proved historic. In his interview to the FIAS website, the athlete discloses what connects him with Bahrain, how he was preparing for the tournament, and what his goal is at the upcoming Asian Games in Jakarta.
- This is my first major SAMBO tournament of such scale, and I've managed to win a medal. My first fight at the tournament was the hardest of all, as I was matched against a very strong opponent from Mongolia and lost to him with the score of 0:5. But then I managed to pull myself together to keep on fighting and won the bronze eventually. My combat for the third place turned out lucky enough – I defeated a Kazakhstani athlete with the score of 8:1. I believe my success owed much to my persistent month-long preparation to the Asian Championships at the Kstovsky SAMBO Academy, alongside very competent Russian athletes.
- How come that you, an athlete from Russian Dagestan, represent Bahrain?
- I pretty often visit Bahrain, and I like this country very much. Once my coach suggested that I perform for Bahrain at the SAMBO competitions, and I accepted his offer. And now I'm overfilled with joy and pride that I've earned the first ever medal for Bahrain at the Asian SAMBO Championships.
- What are your plans for your nearest future in sports?
- In late August I'm going to take part in the SAMBO tournament at the Asian Games that will be held in Indonesia. My ultimate goal is to win a medal there, and that's why I'm going to spend the rest of my time before the Games in training. I believe I'm able not only to perform well but also to win those competitions.