Vivienne Fauxpas: "I wanted to sing the national anthem along with all of Cameroon"
Personalities
29 May 2016
Sergei Grishin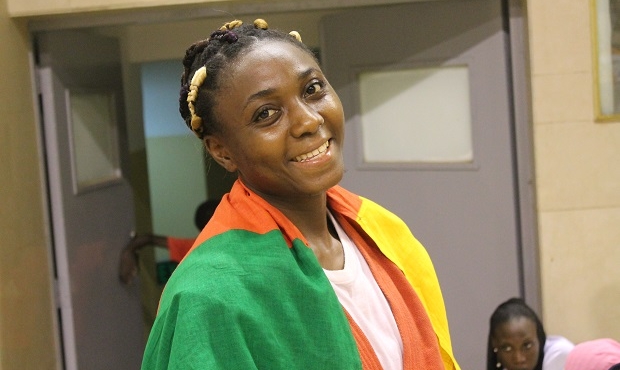 Sambo wrestler from Cameroon Vivienne Fauxpas at the African Sambo Championship-2016 had no equals in the weight category of up to 64 kg among women. In the finals in Niger she was able to break the resistance of Hassania El Azahar from Morocco. After that, almost without showing the joy of victory, the Cameroonian quietly went to the awards ceremony. On the nature of her calmness, the singing of the national anthem of Cameroon on a pedestal and the braiding peculiarities in Africa Vivienne Fauxpas told in an interview to the FIAS's site.
"I am by nature quite calm and I do not have a habit to express strong emotions. When I win, I'm not surprised by this fact because I know I fought well so I feel confident. In addition, my team always supports me from the stands. It drives me forward and incredibly exhilarates me, forcing to do everything possible to win and fight till the end", - said the champion of Cameroon.
Despite her calmness, on the podium the athlete felt moved and sincerely sang her national anthem while holding her hand on her heart.
"I can't even put into words the feelings I experienced while standing on the top step of the podium. I was just crazy proud of the fact that I had the honor to represent Cameroon in this weight category. At that moment, I felt an incredible unity with the Cameroonian people and with our team, that's why I wanted to sing the national anthem along with all of Cameroon,"- does not hide her emotions Vivienne Fauxpas.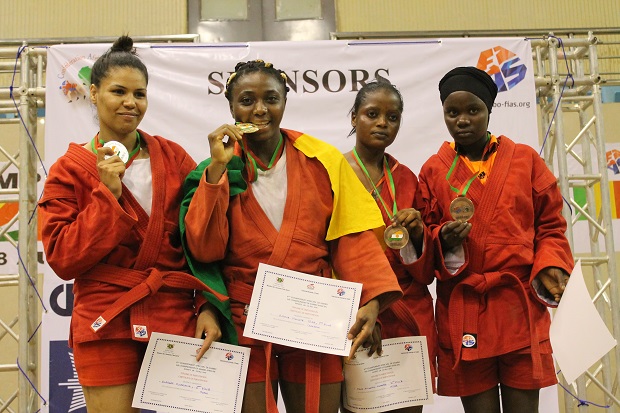 ​
Apart from bright fighting, the Cameroonian sambo wrestler will be remembered for her equally bright hair. Plaits braided in a special way become her trademark.
"I did not make a special hairstyle for the championship in Niger; it is my usual style to wear something bright-colored. And I decided not to untwist my plaits on the eve of the tournament, so I just left a hairstyle that I like. This is my casual style", - explained the sambist.
The next major tournament for the athlete could be the World Sambo Cup. However Fauxpas still isn't absolutely sure she'll go to the planetary forum.
"In Cameroon there is a system of selection of athletes for the international competitions. Everything depends on the decision of the coaches and my sports form. Of course, I will do everything I can to go to the main start of the season in the world of the sambo. I hope I'll be able to perform in Bulgaria and show my best fight,"- said Vivienne Fauxpas.